By Blanca Reyes
"Self Unfixed: Picturing Identity" is the new art exhibition at the Bath House Cultural Center. 
"This show is about how the artist sees herself or himself from different points of view, not only [the] color of their skin, [but] their cultural identity, their gender identity. The different types of identity are being explored with this exhibition eloquently," said Visual Arts Coordinator and Curator of the Bath House Cultural Center Enrique Fernandez.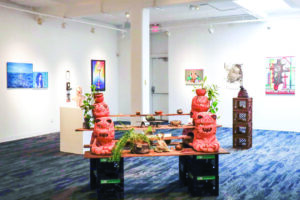 Thirty-eight artists and 60 pieces are part of this exhibition, which are mostly from the area. Only one artist is out of state. Kathy Windrow is the curator of the exhibition. She is an art and art history professor at Eastfield Campus and an adjunct professor in art history and theater at Southern Methodist University. The main purpose for Windrow curating this exhibition is to highlight local talent, according to Fernandez.  He said they decided to run this exhibition because people at the Bath House Cultural Center wanted to have a strong show during April, which is Dallas Arts Month.
Fernandez added that, for some of the artists, the process of self identity has been a long process, which has allowed them to create more than one piece to express their identity.
"That investigation has led that person [artist] to create multiple pieces, one or two, or three that are maybe aligned." Fernandez said.
The process for this evolution of self identity might last months or even years. One of these artists is Tina Medina who, according to Fernandez, has been exploring the immigration topic for years, which has had a strong influence on her work in this exhibition. 
The exhibition features artists from different cultural backgrounds, including African American, Native American, Latino Chicano and Asian American artists. 
Another artist presenting his work is Jeremy Bigger, whose art is getting more recognition and attention lately, according to Fernandez. He said that Biggers' pieces remind him of art from the 16th and 17th century. 
"Very dramatic. It almost looks like the subject is in the middle of a play," Fernandez said. "He depicts lots of African American people always in a very powerful, empowering way. I think that's what has attracted many people to his work. He's depicting these figures in almost heroic ways."
The "Self Unfixed: Picturing Identity" exhibition will run until April 29 and coincides with the Dallas Arts Month. The Bath House Cultural Center is located at 521 E. Lawther Dr., Dallas, 75218 and is open Tuesday through Saturday from noon to 6 p.m.