By Alyson Black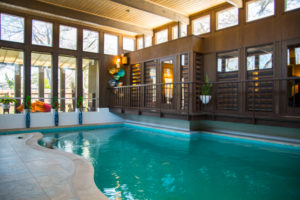 For the first time in its 13th year history, the White Rock Home Tour has added a bonus home to its line-up and has also branched out to a very special home in Garland.
This year's White Rock Home Tour (WRHT) will now showcase four mid-century modern homes and three modern new builds, each architecturally significant and carefully selected to offer something unique for tour goers; that's seven homes total, compared to the usual five or six homes since its inception in 2006.
The 2018 WRHT is Saturday and Sunday, April 21 and 22 from noon to 5 p.m.
The "bonus home" is 4606 Chapel Hill, a 13,000 square foot estate built in 1967 by Robert M. Brittingham, founder of Daltile, the largest manufacturer and distributor of tile and tile products in North America.
Designed by architect Gilbert Greenman, this home in the exclusive Cloisters neighborhood boasts floor-to-ceiling windows in nearly every room to take full advantage of its prime lakefront location and offer panoramic views, even from the sunken pink jacuzzi tubs in the master bathrooms. Massive stone walls and fireplaces and natural materials throughout the home are underscored by stone inlaid terrazzo floors. There's even a full commercial basement that could house the population of a small city.
"We are honored to share this grand estate with our home tour guests and celebrate its rich history," Event Chair Alyson Black said.
Six miles away from White Rock Lake in a scenic old Garland neighborhood sits 3621 Glenbrook Court, a sprawling 1965 time capsule designed by commercial architects Craycoft Lacy + Assoc. that centers around an indoor pool.
The nearly 5,000 square foot home is filled with natural light and charm. Owners Royce Mathews and Johnny Johnson lovingly restored this mid-century modern gem to its original glory, and it must be seen to believe.
Additional highlights from this year's tour include:
• The recently restored family home of Dallas' most famous architect, E.G. Hamilton at 6882 Avalon, built in 1954.
Here, E.G. would sip martinis with Roy Nasher and Stanley Marcus to hash out plans for NorthPark Center and other iconic Dallas landmarks.
• A "green home" at 8626 Diceman, built around the sun's rotation to increase energy efficiency, and loaded with earth-friendly features inside and out.
• "Tiny home" fans will be inspired by the pool house at 10845 Eden Roc perched outside a massively cool 1954 Niles Resch home.
• One-of-a-kind lap pool at the "Hill Country Modern" home at 8809 Diceman.
• Open floor plan that flows seamlessly with the outdoors a stone's throw from White Rock Lake at 6912 Chantilly Court.