By Shari Goldstein Stern
On the heels and toes of Garland Summer Musicals' (GSM) first show of the season, "The Music Man," which was met with the laughs, glowing reviews and fanfare that are traditional to this impactful local theater, comes "Dirty Rotten Scoundrels (DRS)." This final GSM show of the summer will run July 21 through 30 at the Granville Arts Center in Garland.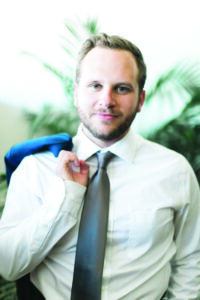 Based on "Bedtime Story," by Stanley Shapiro and Paul Henning, DRS was a well-received film in 1988, starring multiple-Golden-Globe nominee Michael Caine, AFI Life Achievement Award winner Steve Martin and DFCA Most Promising Actress, Glenne Headly. Baby boomers may remember her for Oscar-winning, "Mr. Holland's Opus," a movie lover's favorite. She played the patient, loving wife opposite Richard Dreyfuss' manic composer and high school music teacher. 
The New York stage production of DRS earned 11 Tony Award nominations. 
According to the GSM website, DRS's story places con artist Lawrence Jamieson, portrayed by Randy Pearlman, as a longtime resident of the French Riviera, where he enjoys the fruits of his deceptions. 
The plot thickens when a competitor, Freddy Benson, played by Brandon Wilhelm, shows up. When the new guy's lowbrow tactics impinge on his own work, Jamieson resolves to get rid of him. Confident of his own duplicitous talents, Jamieson challenges Benson to a winner-takes-all competition. Whoever swindles their latest mark first can stay, while the other must leave town.
GSM's production stars Dallas actor Randy Pearlman as Lawrence, Steven Golin as Andre and Molly Robinson as Christine. DRS will also feature Whitney Golin as Muriel; Brandon Wilhelm as Freddy; and Kynzi Gumm as Jolene. 
According to producer Patty Granville: "Each cast member has a magnificent voice and incredible resume of past shows. Randy Pearlman was our Tevye in 'Fiddler on the Roof' and Max in 'The Producers.' Randy is, once again, awesome in 'Dirty Rotten Scoundrels.'"
Granville added: "I directed Steve and Whitney Golin in the two-person musical of Rosemary Clooney, 'Tenderly.' Both are fantastic. Brandon is hilarious as Freddy. With Molly's remarkable voice, she is magical as Christine. Then Kynzi Gumm plays Jolene in a spectacular song and dance number. Our production team is outstanding. This show is destined to be an audience favorite."
Performances will be held in the Brownlee Auditorium of the Granville Arts Center, 300 North Fifth St. in downtown Garland. Contact garlandartsboxoffice.com for tickets.