December 20, 1927 – August 10, 2023
Mary Evelyn Haynie, of Dallas, was one of the original residents on Brentgate Drive in Lake Highlands. She passed away peacefully on August 10 at the Lutheran Sunset Home in Clifton with her children by her side. She was 95 years old.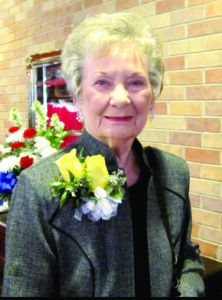 She was born in Dallas on December 20, 1927. She was baptized, confirmed and married at Central Lutheran Church in Dallas where she was a lifelong member. She married Jack Haynie, and they were together for 64 years until his death. 
Mary was a wonderful wife, mother and businesswoman. She and Jack owned and ran businesses together, including theaters and staffing agencies. She retired from The University of Texas Southwestern Medical Center in Dallas after 27 years, including many in the President's Office as the Office of Public Affairs. 
Her interests included her family, church, dancing, bridge, traveling, cooking, gardening, sewing, crocheting, cats, music, and playing croquet and tennis. She served her church as a member of the Adult Choir, as Sunday School and Vacation Bible School superintendent, and on the sanctuary building committees. 
Mary loved her Lutheran, Norwegian, Scottish and Texan heritages, and was a member of The Norwegian Society of Texas. She enjoyed traveling throughout the United States, Canada, the United Kingdom and Norway, but never developed any great taste for either haggis or lutefisk. 
Mary was preceded in death by her husband, Jack; parents, Margaret Hansen and Robert Frost Sr.; and brother, Robert Frost Jr. She is survived by her son, Steve Haynie, and his wife, Laura; daughter, Sharon Meggers; and grandchildren, Kristin and Brian Meggers; and many nieces, nephews, cousins, godchildren and friends. 
Mary's church and faith in God were important to her. Therefore, in lieu of flowers, the family requests memorials go towards the Children's Sunday School ministry at Central Lutheran Church, 1000 Easton Road, Dallas, Texas, 75218. 
Visitation is on Sat., August 26 from 4-6 p.m. at Restland in the main building on 13005 Greenville Ave. in Dallas. The Central Lutheran Church service is on Sunday, Aug. 27 at 12:30 p.m. at 1000 Easton Road in Dallas, with a graveside service at 3 p.m. back at Restland.