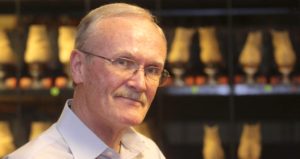 Beloved husband, father, brother and friend, Charles "Chuck" Joseph Connor Jr., passed away Monday, Jan. 15, 2018 in Dallas, Texas. He was born on Sept. 25, 1950, in Dallas, Texas. He attended St. Thomas Aquinas and Jesuit College Preparatory School of Dallas. Following graduation, he attended East Texas State University in Commerce, Texas, where he was an active member of Kappa Alpha Order, serving as vice-president for his pledge class. He received bachelor's degrees in sociology and psychology, as well as a master's degree in student personnel and guidance with a split minor in psychology and photography. After college, Chuck worked in counseling at Mountainview College as the Coordinator of Handicapped Services. He was very active with The Listening Ear, a crisis intervention center, and was certified as a telephone crisis intervention counselor through the Suicide Prevention of Dallas. In 1980, his father retired, and Chuck took over the reins of White Rock Skate Center. During his 36 years as the owner, he did not miss a day of work.
He was a well-respected member of the Lake Highlands community and was often referred to as "the skating rink guy" (Even on a family vacation in Arkansas!). On Oct. 16, 2016, he hung up his skates and happily retired. After retiring, he could often be found cruising the backroads of Texas on his Harley or in his favorite sportscar with his wife, Laura.
He was an avid supporter of the Dallas Police and Dallas Fire Departments.
He is preceded in death by his father, Charles Connor, Sr; his mother, Elizabeth "Betty" Conn Connor; and his sister, Linda Helge. Survivors include his wife, Laura Connor, of Dallas; his daughter, Leslie Connor, of Dallas; his sister and brother-in-law, Mary and Bert Frisbie, of Kansas; and his sister and brother-in-law, Cathy and Rick Gilliland, of Austin.
In lieu of flowers, please consider a donation to Assist the Officer Foundation at: atodallas.org/support.
In Memoriam: Charles 'Chuck' Joseph Connor, Jr added by whiterocklakeweeklyadmin on
View all posts by whiterocklakeweeklyadmin →