October 22, 1936 – August 2, 2023
John Barry Bert, a beloved soul, entered this world on October 22, 1936, in Austin, Texas, as the cherished child of John Edward and Leah Baker Bert. His lifelong journey led him to the White Rock area of Dallas, where he found his place and purpose. A dedicated worker from a young age, John's commitment was evident when he received the esteemed "News Carrier of the Month" award from The Dallas Morning News during his youth. His paper route was not just a task, but a responsibility he embraced wholeheartedly. A testament to his determination, he became the Dallas Golden Glove Champion in the featherweight class and later graduated from Crozier Tech in January of 1956. Continuing his quest for knowledge, he embarked on a journey to Abilene Christian College in 1956, followed by enrollment in the U.S. Army Southwestern Signal School.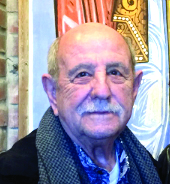 Upon completing his service in the army, John's creativity flourished as he assumed the role of an art director at Recognition Equipment. His artistic flair was evident in the brochures, drawings, sculptures and other creations he designed for the company. As his family grew, he made the pivotal decision to establish his own roofing company, a venture he successfully managed alongside his wife, son and daughters.
 John's adventurous spirit beckoned him to explore the world, and he embarked on remarkable journeys to countless corners of the globe. His travels included multiple sojourns to Europe, where he immersed himself in the cultures of France, Italy, Germany, Spain, Portugal, Austria, London and Switzerland. He and his beloved Dee even ventured on a captivating safari in South Africa and enjoyed the tranquil beauty of Caribbean islands and the Bahamas. Trips to Canada and New York were also treasured, allowing him to revel in his passion for musical theater. Creating cherished memories with his entire family, John shared joyous times in South Padre, Deer Lake Cabins and Club Med.
John's heart held special places for three couples who touched his life deeply — his friendship with Richard and Elaine Kennedy of Dallas, Ismael and Marucha Cardenas in Mexico City and Alex and Marian Tschirhart in Castroville held profound significance. These bonds were a testament to the meaningful relationships he forged, considering them family and cherishing their presence in his life.
Surrounded by the warmth of his family and his beloved wife of 58 years, John Barry Bert peacefully departed from this world in the embrace of his home. A man of unwavering generosity, he dedicated his time, talent and resources to causes close to his heart. A life filled with love for his wife, family, feline companions, explorations, entertainment, delectable meals and a refreshing glass of chardonnay was a life well-lived. With gratitude for his presence in our lives, we bid a heartfelt salute to you, John Bert. Your legacy will forever radiate in the hearts of those who were fortunate to know and love you.