Kathy Rogers passed away peacefully on April 9, 2023. She was preceded in death by her parents, Benjamin and Harriet Fillmore, and brother Benjamin Fillmore. She is survived by sisters Jeanne Larson and Bitsy Lee, son Patrick Rogers, grandson Ethan Rogers, two nieces and a nephew.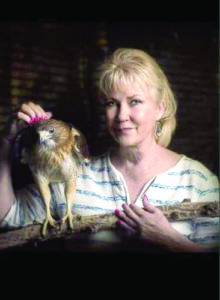 Kathy was known by her outward beauty, infectious laugh, dry sense of humor, and, most of all, her generous heart and compassion for "all creatures great and small." A lifelong lover of animals, she worked for the Dallas Zoo and consulted at the Dallas Aquarium and Busch Gardens, among many others. She ultimately founded The Rogers Wildlife Rehabilitation Center (RWRC) in 1989 at Samuel Farm in Mesquite, Texas, which she devotedly built into the largest not-for-profit largest all-species avian rehabilitation and education center in North Texas.
Since its inception, RWRC has accepted, rehabilitated, and released many thousands of critters back into the wild. 
RWRC now only focuses on taking wounded or abandoned birds of any kind but, historically, it has helped anything with fins, fur, feathers or scales. Almost every animal that came through the gates of the facility was given a nickname that was uncannily spot on with its appearance or personality. "Dreamboat" Annie the Araucana chicken, "Tom and Eddy" the turkeys, "Brother" the llama, and several black crows who were all known as "Russell." 
For those animals that could not be released, it was not uncommon for them to end up at Kathy's home as part-time or sometimes permanent companions.
Not only does RWRC provide second chances to animals in need, it was here that Kathy built a community centered on a love of animals. As a part of this community, volunteers of all backgrounds came together with a shared purpose, inspired by Kathy's welcoming nature and commitment. 
Kathy's work clearly demonstrated the type of positive change that is truly possible with a relatively small group of individuals united in a common mission.
Taken far too young, Kathy saved countless lives and souls and continued her calling to the end. For those lucky enough to have known her, she will be remembered for her passion, dedication, and kindness. She will be missed tremendously. Information about and donations to the Center can be made at rogerswildlife.org.
Please leave the family condolences and share memories at legacy.com.Arrangements under the direction of Aria Cremation Service and Funeral Home, 19310 Preston Rd. in Dallas.