December 13, 1964 – February 5, 2022
By Shari Goldstein Stern
Larry Mead was still a young man when he passed away Saturday, February 5 in a house fire in far East Dallas. 
The Texas native graduated from North Mesquite High School. He did coursework at Eastfield College, and then earned an associate degree in performance from Mountainview College. In the '90s, Larry worked in accounting for his dad and brother's electrical business.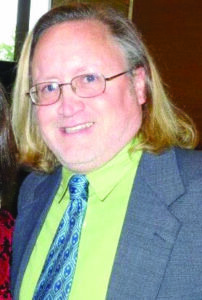 Among Larry's passions was musical theater. According to Larry's friend, Steven Beene, who appeared in about 25 shows with him, Larry choreographed and played in countless productions at Irving Community Theatre, Garland Civic Theatre, Lyric Stage and Garland Summer Musicals, where he performed in "Camelot," featuring John Cary. In "Gypsy" at Fort Worth's Casa Manana, Larry appeared with Kristen Chenowith and Lainie Kazan. 
He served on the board of the Dallas Summer Musicals Guild.
Larry's many friends and family members are shocked as they try dealing with the sudden loss of a dear friend, brother and uncle. They know Larry as a selfless, giving, empathetic and thoughtful old soul with a large sense of humor. There was rarely a time when he showed up at his friends' homes for a visit without a surprise from that day's Dollar Store journey.
Larry started living his dream as an entrepreneur with his own landscape and design business. Most of Larry's customers have become more than that as they developed friendships with the engaging, kooky guy with a huge heart who always made them laugh.
Left behind with broken hearts are Larry's two brothers and their families, all in Oklahoma. His niece, Stef Mead, was extremely close to her uncle. They spent much of their time together in Dallas, until she recently bought a home in Oklahoma. The two have been adjusting to living miles apart but had managed to keep tight through daily phone calls and texts. 
Stef said: "He was so giving. He would have done anything for anybody." She added, "Our family will miss his boisterous laugh; the accompanying snort — not so much."
No funeral services are planned, but there will be a celebration of Larry's life later this year.