October 17, 1950 — January 15, 2023
I have fought the good fight, 
I have finished the race, 
I have kept the faith.  
            2 Timothy 4:7
Roderick Roy MacElwain passed away peacefully on Sunday, Jan. 15 following a heroic battle with cancer. Roderick impacted the lives of virtually every person he encountered, often profoundly. He was a giant of a man who truly led a singular, exceptional life.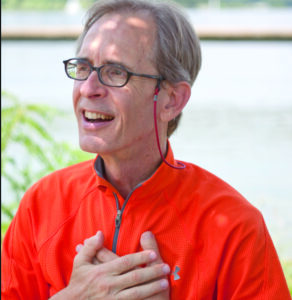 Roderick was born on Oct. 17, 1950 in Miami, Fla. Roderick had vivid childhood memories of growing up in Key Biscayne in the 1950s. Hearing his parents' stories about their military service in World War II — his mother Marjorie served as a medical assistant in the Navy WAVES (Women Accepted for Volunteer Emergency Service), while his father Jack served in the Army in the European theater — instilled him with a lifelong sense of duty and patriotism and an unflagging commitment to always do the right thing. Another of Roderick's vivid childhood memories was spending summers at his Grandmother Mamie's cabin in the boundary waters of northern Minnesota. There, Roderick developed his deep-rooted sense of life as an adventure and a lasting love of the outdoors.  
After graduating from the University of California, Berkeley, Roderick moved to New York to follow in his father's footsteps and pursue a business career. Roderick ultimately decided to pursue his true calling in life: to love people and to explore the life of the Spirit.  
Roderick underwent a powerful religious awakening in his mid-20s. Having been raised in the Christian faith, he took up the calling to "Be Like Christ," performing many acts of selfless altruism. Without money, food, a change of clothes or even a passport, and with a self-imposed rule that he would not beg or ask anyone for help, Roderick left home to see where and how far his faith, grit and wits might take him. He would often refer to his trip around the world as a formative experience, and he would share countless stories of his travels through several continents, which were both harrowing and heartwarming. After returning from his travels, Roderick first returned to Florida. He later moved to Dallas, Texas in the early 1980s.  
Roderick is perhaps best known locally in the Dallas area as one of "The Free Advice guys." Nearly every Sunday for more than two decades, Roderick and his close friend, Neal Caldwell, would sit on a picnic blanket at White Rock Lake's Jackson Point with a hand-painted sign offering "Free Advice" to passers-by. Although most who wanted free advice were initially strangers, many became repeat visitors. Some even became lifelong friends. Fond of saying that he would give advice on "everything from bathroom tile to relationships," Roderick found free advice yet another outlet for his passion to help others and to use his remarkable intellect.
Roderick was diagnosed with late-stage cancer in April 2017. At the time of his diagnosis, his doctors told him he had approximately six months to live. Never one to be satisfied with conventional wisdom or to accept defeat, Roderick took on cancer in a way that was both herculean and quintessentially his own. A vegan devoted to a healthy lifestyle long before it was fashionable, Roderick pursued some conventional treatments for his illness but also used many alternative treatments. Roderick's unique approach to cancer treatment almost certainly extended his life by several years. 
Roderick is survived by his loving wife Lisa Oglesby Rocha, sister Eva Narten, niece Michelle MacElwain Leon and great nephew Jorge Taño Leon, as well as countless spiritual family members and close friends.  
A memorial service will be held at 2 p.m. on Saturday, March 4 at St. John's Episcopal Church, 848 Harter Rd. in Dallas. A celebration of Roderick's life will immediately follow.