Virginia Beth Tucker Blomgren
March 12, 1941 – March 15, 2023
By Shari Goldstein Stern
Virginia Beth Tucker Blomgren passed away in Dallas on March 15, 2023, three days following her 82nd birthday. She was born in 1941 in Dallas.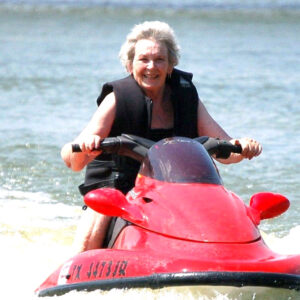 The Tucker family lived on Ash Lane in East Dallas when their first daughter was born. Virginia grew up in the East Dallas neighborhood of Casa Linda near White Rock Lake, where her parents, Wayne and Marie Tucker, built a home in the brand new Casa Linda Estates. Virginia attended Reinhardt Elementary School and Gaston Junior High. After spending her sophomore year at Woodrow Wilson High School, she elected to attend Dallas ISD's newest school, Bryan Adams High School (BA), when it opened in 1957.
Virginia was a proud cheerleader in BA's first cheerleading squad and was an alumna of the school's first graduating class of 1959-1960. She served on the first yearbook staff and participated in naming the El Conquistador yearbook.
Virginia and her late husband, Al Blomgren, took great pride in Shady Acres, the private school and day care center they owned and operated in Houston.  
Virginia's loving sister, Ann Marie Tucker, said: "Vivacious does not begin to suffice in describing my big sis'. The comments in the BA Memorial for our Fallen Cougars agreed: 'Bubbly, full of life, happy, friendly to all, showing affection to everyone.'" Virginia's middle sister continued, "Her smile lit up the football stadium. Her spirit stayed strong right up to the end." 
Virginia is survived by four children: Steve, Ashley, George and Teresa, and her beloved sister, Ann Marie Tucker of Dallas. She was preceded in death by her parents, Wayne and Marie Tucker; her husband, Al Blomgren; her sister, Ellen Tucker Walker; and her brother-in-law, Harry Walker.
A celebration of Virginia's Life will be held in Missouri City, Texas on Saturday, April 1. A private graveside service will be held later in the spring in Dallas. Virginia will be laid to rest in the Tucker plot at Restland.