By Juliette Coulter
The Ireland Funds held its 2023 Texas Emerald Ball on March 18 at The Adolphus Hotel to raise much needed funds for organizations in Ireland.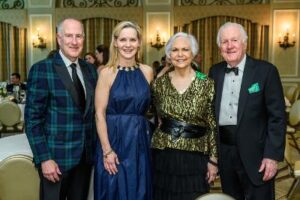 The evening opened with a cocktail reception followed by Don Shannon playing the bagpipes to signal the start of the dinner and program. Once inside the ballroom, the 200 attendees clapped along as students from the Maguire Academy of Irish Dance performed Irish dances. 
Caitriona Fottrell, The Ireland Funds president and CEO, welcomed everyone. "Our unofficial motto is 'Come for the party and stay for the mission.'" She talked about the funds reaching groups who work with those with disabilities and mental illness and that provide access to education in marginalized communities.
As Peace and Reconciliation is one of the organization's pillars, she added that 2023 marks the 25th year of the Good Friday Agreement. "We are commissioned to stay another 25 years, and we will do whatever we can do to make sure the peace with Northern Ireland stays."
Minister for the Department of Tourism, Culture, Arts, Gaeltacht, Sport and Media Sport Thomas Byrne, T.D., said: "The Ireland Funds have done much to harness the sense of connection and kinship among Irish Americans to achieve a purpose. We also acknowledge the unique contributions that America has made to peace with Northern Ireland, and that it's bipartisan in nature, and I thank you."
Most Reverend Greg Kelly, Auxiliary Bishop of the Diocese of Dallas, gave the invocation, followed by dinner. 
The Ireland Funds video played, showing the impact that the organization has made with various nonprofits. 
Meg Finley, The Ireland Funds' vice president of development, gave the mission moment. "All across the isle of Ireland, with your gifts, The Ireland Funds has provided support to countless individuals since it began in 1976." She asked attendees to continue its support. 
Texas Board Member Thomas W. Codd introduced Sylvia and John Tillotson, who received the Corboy Anam Cara award, which means "soul friend" in Gaelic. "They are true uplifters, exceptional loving parents, grandparents to 17 and friends to countless. They are truly great soul friends." 
Sylvia Tillotson remarked: "I want to thank The Ireland Funds for this recognition. Through DNA testing, I'm nine percent Irish, so I can lay claim to this special Irish honor."
After the speeches, Chloë Agnew, Irish singer and songwriter, and the youngest original member of Celtic Woman, entertained the guests. The party continued as attendees visited while listening to the pianist, Brian Piper.