By Cody Douds
At the U.S. Open in New York City this past August, John Isner, a 38-year-old tennis legend and Dallas resident, retired from the sport he loves. He posted a formal announcement on Aug. 23 via social media. Isner wrote, "The journey was nothing short of incredible." After winning a first-round match, he lost in the second round to compatriot Michael Mmoh. A subsequent doubles loss alongside Jack Sock, who also retired at the tournament, followed. Fighting emotions, Isner hid his face in a towel, but the goodbye was teary and accompanied by a packed stadium of grateful fans.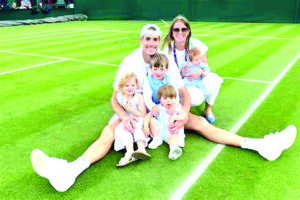 For more than a decade, Isner championed U.S. tennis after Andy Roddick's retirement in 2012. Isner achieved 12 consecutive years inside the world's top 25 and consistently ranked as the top American player. He is best known as the winner of the longest tennis match in history in which he triumphed over Nicolas Mahut of France. The 2010 match at Wimbledon lasted 11 hours 5 minutes with Isner winning 70-68 in the fifth set. The bout lasted three days and contributed to Wimbledon's revised scoring system.
In sports there will always be the proverbial "Vitruvian Men," who are nearly impossible to defeat. Even veteran professionals crumble before them. While their ubiquitous names make up the nobility of the sports world, there is another fascinating rank of athlete. A few players occupy a solitary territory outside the fortresses inhabited by the greats. Because of their eccentricity, these athletes sometimes break into the master's halls and steal their glory.
Athletes with unconventional play styles settle into this category while other mavericks exploit their formidable physical presences. In tennis, John Isner, who stands at 6-foot-10-inches, posed a profound threat to his opponents each time he stepped on the court. 
Tennis has no weight classes, no divisions except male and female, although Isner's stature sometimes caused fans to question this. The conversation was purely court-side blab, the gawking of amateurs and enthusiasts. There is no serious discussion that divisions based on body composition be introduced to tennis.
Imagine this. The place on court where the server stands is called the baseline; the opponent receives on the opposite baseline. The total distance between baselines is 78-feet. An average first serve from a professional male tennis player is 117 mph. At a constant speed, the ball travels the entire distance in just .45 seconds, comparable to the time it takes a dollar bill to fall 40 cm. Next, consider that a returner must cover 13.5 feet of returning space and more than 180 degrees of possible angles. 
The server is acutely aware of the returner's precarious position and complicates it further by disguising the ball toss, which could betray the eventual direction of the ball if poorly executed. All of this is the professional standard, like manufacturing cars that run on gas or electricity rather than coal.
Even in the later stages of Isner's career, he consistently cracked serves in excess of 130 mph — his fastest on record at 157.2 mph. This converts to .4 seconds and .34 seconds of travel time respectively. Yet another variable, the height of the ball, provides more difficulty for the returner. The typical height of a tennis player is taller than 6 feet, but even they struggle to return Isner's high bouncing, fast moving serves that raise above shoulder and head level. The "Isner Serve" — as it was deemed — sent many pros flailing and constituted one of the great obstacles in sports during the last decade.
During that decade, tennis was dominated by The Big Three: Roger Federer, Rafael Nadal and Novak Djokovic. Isner achieved a combined five wins over these legends, who are considered the three greatest players to ever pick up a racquet. Indeed, some spectators have likened a Federer match to a religious experience, so Isner's feat is remarkable. He holds the record for career number of aces in singles matches at 14,111. In 2012, he first broke into the ATP's top ten and later reached a career high of number eight. 
This year Isner struggled on tour, admitting that his body hurt. However, he found success at the Dallas Open, which is hosted by SMU at the Styslinger/Altec Tennis Complex. Isner earned a place in the Men's Singles Final, where he lost to Wu Yibing in three sets. Throughout the tournament, Isner pledged to donate $100 for every ace he served.
In the social media retirement announcement, Isner said he will continue "to be the best follower of Christ, husband and father [he] can possibly be." 
The contributions from the Dallas Open Pledge for Aces flowed through the Isner Family Foundation (IFF), which provides financial assistance for indigent families. The IFF helps people obtain a variety of necessities, such as meals, clothing and medical supplies. Although Isner's time on court has come to an end, he values the relationships he developed and continues to use his gifts for the community. Visit johnisner.com for more information.