June 28, 1943 – December 8, 2020
By Gaelan Bellamy 
John Ashley Bellamy, artist, beloved father, companion and brother, passed away on December 8, surrounded and held by his family, completing a life best described as fabulous.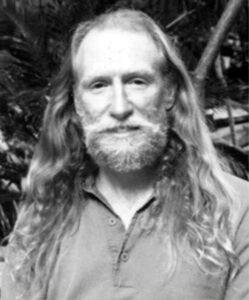 Born June 28, 1943 to Jane and Lloyd Bellamy, Johnny never strayed from the path less traveled. 
After graduating from Jesuit High school, he went on to receive his BA in Fine Arts from Notre Dame University in South Bend, Ind., notably creating a building-sized mural of the football coach out of colored balloons, and then his Masters of Fine Arts from Carnegie Mellon Institute in Pittsburgh, Pa.
Following his master's degree, he received the Louis Comfort Tiffany Fellowship, the Kante Neal Kinley Scholarship and the Elizabeth Greenshields Fellowship, which allowed him to study art and sculpture in Paris, Berlin and Rome for many years.
In 1969, Bellamy returned to Dallas and took the art scene by storm. Donned with his new self-identity, he transformed an old Methodist Church into what is now known as the Moon Mansion, and it would become the vessel of his life's work and home to the beloved annual Christmas Eve party. Within those magical walls, he blossomed, studying transcendental meditation, the I Ching, Chinese brushwork, stained glass, sculpture and oil painting. His creativity flowed like water, leaving behind an immense body of work, including three loving children.
As a father and mentor, he was infinitely understanding, accepting, patient, loving and inspiring. He wholeheartedly supported his children in their careers and endeavors, and he opened his home to many aspiring artists, creating a thriving creative community. He exuded positivity, and its permeation is evident in these words from one of his close friends. 
One member of a family who has been close to Bellamy for many decades said: "I'm one of hundreds that he inspired. He was a breath of fresh air in an often too cynical world. And he moved like air. He carried himself as if he was being carried, and called others to seek higher ground."
Bellamy, 77, is survived by his spouse Kate O'Hara and three sons: Seth and his fiancé Julie, Gaelan and his wife Holly, and Sage; by his siblings, Betty, Buddy, Michael, Russell, Richard and Robert; and by all of those whom he inspired. 
"I can't say enough good things about him," said Brad Houser, the bassist for Edie Brickell & New Bohemians, who lived at Moon Mansion. "He was universally liked and loved by everybody. Integrity was very important to him. He radiated it. He would have been a good king 500 years ago. He would have been Good King Bellamy."
A memorial to celebrate his life will be held at the Moon Mansion at 2200 N. Haskell Ave. when public gatherings are safe to attend. Details for the service and examples of his art will be available at johnashleybellamy.com. If you loved Ashley Bellamy, sing a carol in his honor this Christmas Eve. He will be listening.