By Dr. Beth Leermakers
Halloween costumes and huge skeletons already line the aisles at big box stores. Thanksgiving and Christmas will be here before we know it. If you're traveling over the holidays and not taking your cat with you, now is the time to make arrangements. Many boarding facilities and pet sitters book up weeks — or even months — in advance.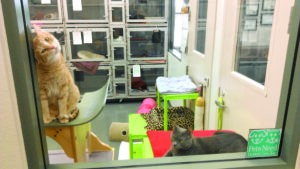 How to Choose a Boarding Facility for Cats 
Ask friends, family and staff at your veterinary clinic for recommendations. Fellow cat parents know whether their fur baby was happy (or at least not stressed out) when they picked him up. Veterinary staff can speak to the medical care provided (if necessary). 
Select a cats-only facility, if possible. A dedicated cat boarding facility caters to feline needs and preferences without subjecting your kitty to those barking, stress-inducing dogs. If you choose a facility that accepts cats and dogs, the cats should be kept in a separate area where they cannot see, hear or smell the dogs. 
Check for licensure and insurance. Find out the Texas requirements for licensure, inspection and insurance, and ask the staff for proof they are in compliance.
Tour the facility. You need to see where your cat will be sleeping and playing. Check out the conditions in all areas. 
• Is the cat area quiet and peaceful?
• Are the temperature and airflow comfortable?
• Does everything look clean and well-organized?
If you cringe when you see tiny cat cages, trust your gut and look elsewhere. 
Look for spacious cat condos. Cat cages are usually only about three feet square. Cat condos give your kitty more room to stretch out and walk around — particularly important if you're gone more than a few days. Look for larger condos that are big enough to separate the food and water dishes and litter box a little bit. Multiple levels and hiding places help nervous cats feel more secure. If you have multiple cats, they can share a larger cat condo.  
Ask lots of questions.
• Will my cat get play time outside of her condo? Better facilities have cat playrooms. 
• What training do you provide for caretakers? 
• Are cats monitored at night? Many boarding facilities do not have overnight staff. 
• What vaccinations and health checks are required? Most facilities require proof of current vaccinations for rabies, feline distemper (FVRCP), and Feline Leukemia. They may also require cats to be parasite-free. 
• Will you board cats with communicable conditions such as FIV or upper respiratory infections?
• Is there a vet on call?
• If not, how do they handle medical emergencies? Can the staff transport your cat to a veterinarian if needed? 
• Can the staff give your cat her medications? Administering insulin shots or ear or eye drops is more challenging than giving oral medications, so you want to be sure the staff can handle your cat's needs. 
• How do they handle a building emergency (e.g., loss of power, damage due to a tornado)? Hopefully disasters are rare, but the staff need to be prepared to keep your cat safe. 
Get your cat used to a cat carrier. The trip to the boarding facility will be less stressful if your cat is comfortable in her carrier. Put the carrier in your cat's favorite area, leave the door open, and place treats near and inside the carrier. Your cat may need a few weeks to accept the carrier. 
Be sure your cat is current on all required vaccinations. Don't wait until the day before your trip to head to the vet. Some boarding establishments may require that the rabies vaccine be given at least seven days in advance, to be effective. While you're at it, be sure your cat has plenty of medication to cover his entire stay. Boarding your cat is a bit like sending a child to summer camp. You'll need to send along a few supplies. Your cat's packing list may include:
• Medications, with instructions about frequency and dosage. 
• Food. The boarding facility will likely provide food. However, if your cat is a picky eater or has a sensitive stomach, you'll want to pack her preferred food. 
• Litter. Again, the facility will provide kitty litter. But if your cat is particular about the type of litter, pack his favorite brand if that's not what the facility uses. 
• Favorite blanket, bed and toys. Cats are creatures of habit who find change stressful. To help your cat cope with being in a new environment, send her favorite creature comfort items with her. 
Take a trial run. Book a two-night stay at the boarding facility so your cat can adjust before you leave her for 10 days. By planning ahead, you can help your cat feel more comfortable in his temporary home-away-from-home. And then you can relax and enjoy your vacation.