By John Wildman
The Asian Film Festival of Dallas (AFFD) announced the film lineup for this year's 22nd edition of the film festival. Taking place July 13-16, AFFD's opening night selection is Tae-Jim Ahn's The Night Owl. The closing night selection is Park Dong-hee's Drive, and special screenings with filmmaker Q&As, include Linh Tran's Waiting for the Light to Change and Sing J Lee's The Accidental Getaway Driver, will take place.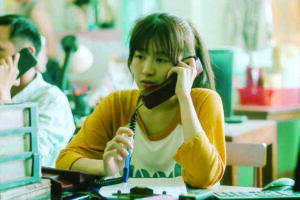 This year's Special Guest Programmers contributing films alongside Lead Programmer Paul Theiss are Anderson Le (artistic director, Hawaii International Film Festival and film producer, Maika, The Girl From Another Galaxy) and Mae Hoang (co-founder of AFFD and director, Cat Daddies). The film festival will add a display of traditional Chinese lions, cinematic toys and a mural created for this edition of the film festival for moviegoers to see and take selfies with at the Angelika Film Center, an opening night KAIDUAN Kickoff Party at Beyond the Bar (101 S. Sherman Street) on Wednesday, July 12 and, once again, will present a Saturday evening Red Carpet event for filmmakers and press. All screenings will take place at the Angelika Film Center Dallas at 5321 E. Mockingbird Lane, #230.
 Opening night on Thursday, July 13 features Tae-Jim Ahn's The Night Owl. The thriller has been a box office sensation in Korea and is based on the mystery surrounding the death of Crown Prince Sohyeon, who returned from the Qing Dynasty in the Joseon Injo period. The closing night selection, Park Dong-hee's Drive, will screen on Sunday, July 16. The driving action thriller follows a popular online streamer who is abducted and trapped in the trunk of a running car. As she tries to figure out a way to escape with her life, she broadcasts her struggle to her followers. The film will screen with Tan Ce Ding's short film, Please Hold the Line, about a young woman who scams people over the phone and now finds herself desperately needing money for an abortion. 
Special screenings include films that made a big splash at the Sundance and Slamdance film festivals earlier this year, with special guests attending both films. Sing J Lee's The Accidental Getaway Driver won the filmmaker the Sundance Film Festival's Directing Award in the U.S. Dramatic Competition. The film focuses on an elderly Vietnamese driver in Southern California, who unwittingly takes a job driving recently escaped convicts from an Orange County jail, thrusting him into their getaway plan. Lee will be on hand for a Q&A following the film's screening. Linh Tran's Waiting for the Light to Change was the recipient of the Grand Jury Prize for Narrative Film at the Slamdance Film Festival. The film was recently picked up by Byron Allen's Freestyle Digital Media, and the film has burned through the regional film festival circuit since. The thoughtful and nuanced drama focuses on a group of high school friends reuniting after a year of college over the course of a week-long beachside getaway. The group's struggles to find something to do in the empty little beach town turns into an unsuccessful effort by all of them to sort through attractions to each other, as well as suppress old resentments, jealousies and desires before they leave. Joyce Ha, one of the film's impressive young cast members, will come to Dallas to participate in the post-screening Q&A. 
Additional highlights include Sung Bin Byun's Peafowl. The film focuses on an exceptionally skilled dancer specializing in waacking — a dance style akin to voguing that emphasizes striking poses. She faces much pressure as she prepares for a dance battle final, which could win her prize money to fund her gender-affirming surgery. However, everything is interrupted when her estranged father passes, and she must perform a traditional dance ritual at his memorial service. 
Hidenori Inoue's Siren in the Shadows follows a female sniper hired to assassinate the head of a rival faction. Prior to her completing her mission, it is revealed that her assassination target is actually the head of her faction in disguise, throwing everything into question.  
For more information, go to asianfilmdallas.com.