By Mary Thompson Charlebois
Dallas 24 Hour Club recently announced the line-up of popular local chefs who will be whipping up delectable tastings for guests at its 10th annual Dallas All Star Chef Classic, on Sunday, Oct. 8 at The Empire Room. Chef Sharon Van Meter, president and CEO of SVM Productions, a leader in the television and radio culinary world, will serve as Honorary Chef Chair and will lead the team of local chefs, while Kristin and James Hallam will chair the event.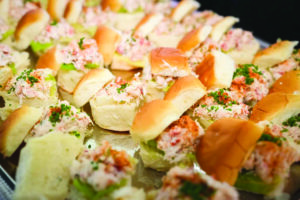 Led by Chef Sharon Van Meter, the assembly of chefs will showcase their culinary talents while attendees enjoy music by the Jordan Kahn Music Company and a silent auction. All monies raised directly benefit residents at The 24 who are recovering from alcohol and drug addiction and are becoming contributing and self-supporting members of the community. Featured chefs include: 
Aaron Staudenmaier, District
Abraham Salum, Salum Restaurant
Eric Dryer, Monarch
Ivan Aguilar, Duro Hospitality
Jeffery Hobbs, Slow Bone
Joel Orsini, Parigi
Justin Box
Koji Yoshida, EBESU Robata & Sushi
Luke Rogers, Beckley 1115
Meadors Ozarow, Empire Baking Company
Michael Wyatt, Full City Rooster
Mike McCoy, Chef to the Shelters
Miriam Jimenez, Miriam Cocina Latina
Paula Lambert, Mozzarella Cheese Company
Salvatore Gisellu, Urban Family Concepts
Sean Jett, Humble: Simply Good Pies
Sharon Van Meter, Private Chef
The Hubcap Cafe
Tony Street, Y.O. Ranch Steakhous
"We are thrilled to celebrate our tenth Annual Dallas All Star Chef Classic, and we are so grateful to our incredible chefs for generously giving their time and talent for our event," said Marsha Williamson, CEO of Dallas 24 Hour Club. "We are seeing an unprecedented number of homeless individuals suffering from substance abuse, and this event helps us raise the necessary funds to provide support and services to homeless alcoholics and addicts, helping them embrace long-term sobriety, obtain employment and become contributing members of our community. We hope you will make plans for this special evening featuring top chefs from around Dallas who have joined together to support our mission."
The Dallas All Star Chef Classic is on Sunday, Oct. 8, from 5:30 to 8 p.m. at The Empire Room, located at 1225 N. Riverfront Blvd., in Dallas. Individual tickets are available for $150 each, and sponsorships are also available by visiting betterunite.com/dallas24hourclub.