By Shari Goldstein Stern
Daniel Mayfield, III has something to rev his motor over. The talented Lakewood native, who will graduate from Booker T. Washington High School for the Performing and Visual Arts (Booker T.) in June, completed his original music for the recently released documentary film, "Leaving Tracks" (LT), and the film raced onto home screens via YouTube and other platforms last week.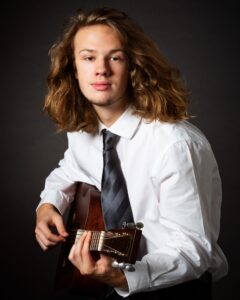 Behind all the film's moving parts, Mayfield used his musical skills to compose and record 11 songs, along with some background stock for the soundtrack. The pieces are a far different style than the musician's traditional choice of heavy rock. In the recordings, the high school senior plays multiple instruments including guitar, pedal steel, bass, drums and keys. Matt Hibbard produced and engineered all the music, and he played some of the pieces on the recording. 
Mayfield's music scores the recently released documentary film about Bobby Haas, his accomplishments in the finance world, as a National Geographic photographer, as an enthusiast of motorcycles and the biking culture, and now as founder and curator of the Haas Moto Museum and Sculpture Gallery in Oak Lawn's prestigious Design District. 
"Of course, I'd written before," Mayfield said. "I've played in bands five years or so and wrote some of that music. I like music and trying new things." One of the new areas the musician wishes to explore is horticulture. While the senior is still in the contemplation stage of gearing his future, some considerations are to attend one of the Dallas County Community Colleges and potentially to study horticulture. "This year's school-work has been strictly virtual. I have never been a big fan of school so working at home and the museum and writing and playing music works out well for me. I find it best to learn independently."
Mayfield added: "I am fortunate and glad to learn from Bobby. He does not stop. He's always doing something new, and you're always learning something new about him."
Haas remarked about Daniel's contributions to the film: "Early on in the filming of 'Leaving Tracks,' I asked Daniel if he could compose and perform an original musical piece for the film. I had seen him perform and was enthralled with his style and his versatility."
An investor — turned aerial photographer — turned motorcycle collector — turned museum curator, Haas said: "When I heard [Daniel's] first piece, I was totally blown away by how beautiful and lyrical it was (not the heavy rock that Daniel normally performs). Once I shared it with our director/producer Nick Davis, Nick was equally captivated, so we went back to Daniel and asked him for another song or two … and then three compositions led to four, five, six and more eventually to create part of the original musical score for 'Leaving Tracks,' a grand total of 11 songs."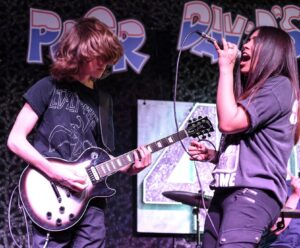 Haas continued: "What's so amazing is not just how Daniel composed the music, performed each instrument (lead guitar, bass guitar, drums, keys, etc.) and blended the 'stems' together into one seamless masterpiece after another, but also how we only needed to give Daniel limited guidance as to what we were looking for. Eventually we had a magnificent portfolio of 11 songs to work with, and each one fit beautifully with a specific portion of the film.
"Daniel is one of those mind-boggling talents who has no idea how extraordinary his genius is. For Daniel, it is just a matter of doing what his passion calls upon him to do. This musical prodigy is as beautiful a young man as his music is beautiful to the ear," Haas added.
Haas said he hopes the documentary might give "life lessons and guideposts." He believes that camaraderie, friendship and brotherhood, along with mutual love of the sport and the cycle community are what perpetuate the close culture. All the sound does partner seamlessly with the motorcycle culture's speed, focus and riders' enthusiasm.
According to Mayfield, the team started recording the project in Feb. 2020. "Bobby has a connection with everyone in the movie. He is my boss and has been close with the family for years. I've been working for him a long time wherever I could help, like now at the museum, where I do odd jobs, sell shirts and books, cashier and answer questions."
The film was released earlier this month. Interested music lovers can navigate to "Leaving Tracks" on YouTube, Vudu, Vimeo and iTunes to hear Mayfield perform his original music.