12 lasagna noodles, broken into irregular pieces of roughly the same size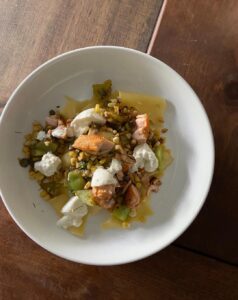 2 (6-ounce) salmon fillets
4 medium green tomatoes, chopped
Kernels from 2 ears of corn
1/4 cup capers, rinsed
1/4 cup chopped fresh dill
4 burrata, cut into wedges
Salt and pepper
Vegetable oil
Cook noodles per package directions until al dente. Drain, reserving 1/2 cup pasta water. 
Meanwhile, season salmon with salt and pepper. Heat 2 tablespoons oil in a nonstick skillet until hot. Add salmon skin side up and sear 5 minutes. Turn and cook until cooked through, about 6 minutes more. Remove to a plate and set aside. 
Add corn to the pan and cook without stirring until corn begins to char, about 3 minutes. Add oil to pan if needed, then stir in tomatoes and cook until they begin to soften, about 5 minutes. Add pasta water, then capers and dill. Break salmon into chunks and gently stir to keep from breaking it up more. Season with salt and pepper. Divide noodles among plates and top with salmon mixture, then top with burrata.