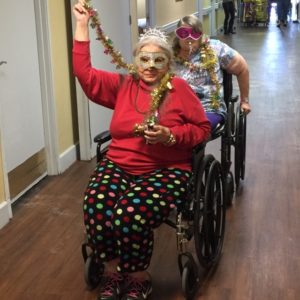 By Shari Goldstein Stern
It will be Fat Tuesday in the French Quarter when residents of Mesquite Tree Nursing Center (MTNC) pull out the beads and masks to bring Mardi Gras to town. That's Tuesday, Feb. 13 at the Big Easy — or the Center at 434 Plaza Drive in Mesquite.
From 8 to 10 a.m. center residents will host the community for its traditional Mardi Gras Pancake Breakfast. The home-made breakfast is complimentary and will feed everyone from the community, neighbors, friends, nearby businesses and vendors.
"The Mardi Gras celebration at MTNC has been ongoing for three years. It is important to the culture of the facility because the Mardi Gras celebration mirrors the abundance of different ethnicities housed at Mesquite Tree. The population of the residents living here is a 'melting pot' quite similar to the city of New Orleans," says Keisher K. Carter, LMSW, director of social services.
Carter adds: "Each resident brings with them [to MTNC] their own traditions and values. Then as the residents become acclimated to the culture of Mesquite Tree, their culture becomes a part of the fabric that creates the loving, accepting and lively culture unique to MTNC. It is a time in our facility when the residents get to dress up, be festive and parade through their home —  just as the New Orleanians do during Fat Tuesday at Mardi Gras." The director continues, "So, don't worry if your Cajun French is rusty. Simply 'laissez les bon temps rouler' (pronounced 'Lay-say le bon tom roo-lay') which means 'let the good times roll.'"