1/3 cup white miso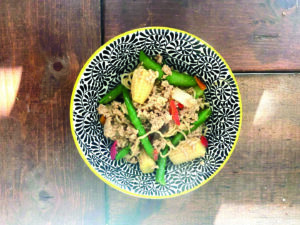 1/4 cup rice vinegar
2 tablespoons soy sauce
1 tablespoon honey
2 teaspoons grated ginger
1 pound ground chicken
1 (12-ounce) package stir-fry vegetables
2 packages ramen noodles, cooked
Vegetable oil
In a bowl, stir together miso, vinegar, soy sauce, honey and ginger. In a skillet, heat 2 tablespoons oil over high heat. 
Add chicken and cook, stirring, until cooked through, about 3 minutes. Add vegetables and cook until warmed through. 
Add sauce and noodles and toss to mix. Serve hot.