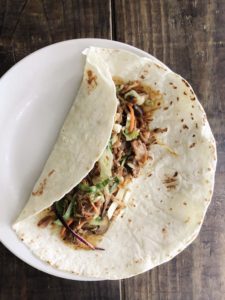 1 can jackfruit in brine or water (not syrup), drained
1 cup sliced mushrooms
1 cup soy sauce or coconut aminos
1 cup hoisin sauce
2 teaspoons sriracha, or to taste
1 teaspoon rice vinegar
1/2 teaspoon sesame oil
1/2 teaspoon garlic powder
1/2 teaspoon ground ginger
1 (10-ounce) package coleslaw mix
4 (6-inch) flour tortillas
Vegetable oil
Salt and pepper
Heat 2 tablespoons oil in a nonstick skillet over medium-high heat. Add jackfruit and cook without stirring until beginning to brown on one side, about 4 minutes. Add mushrooms and continue to cook, stirring, until they begin to soften, about 3 minutes more. 
Meanwhile, in a small bowl stir together 1/2 cup soy sauce or aminos, 1/2 cup hoisin sauce and 1 teaspoon sriracha. Add to pan, reduce heat to medium-low and cook, breaking up jackfruit until liquid has reduced by about half. Stir in coleslaw mix and stir until it begins to wilt, about 2 minutes. Season with salt and pepper. 
Heat tortillas to soften. Stir together remaining soy, hoisin and sriracha in a small bowl. To serve, spread tortilla with a little of the sauce and top with the jackfruit mixture.