3 tablespoons unsalted butter, divided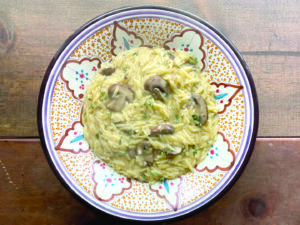 1 tablespoon vegetable oil
1 shallot, minced 
2 garlic cloves, minced
1 tablespoon thyme leaves, minced, plus more for garnish
8 ounces cremini mushrooms, sliced 
1 pound orzo pasta
1/4 cup dry white wine 
6 cups chicken or vegetable stock 
3 tablespoons grated Parmesan cheese
In a large saucepan over medium-high heat, melt 2 tablespoons butter. Add oil, then add shallots. Sauté until soft, about 2 minutes. Add garlic and thyme and sauté until fragrant, about 30 seconds. Add mushrooms and sauté until wilted, about 5 minutes. 
Add orzo and stir to coat with oil. Add white wine and let cook about 1 minute. Add stock and bring to a boil. Reduce heat to medium and simmer, stirring often, until orzo is cooked, about 12 minutes. 
Stir in cheese and remaining butter, then season with salt and pepper. Garnish with additional thyme leaves and serve hot.