1 slab boneless pork belly (with or without skin), about 2 pounds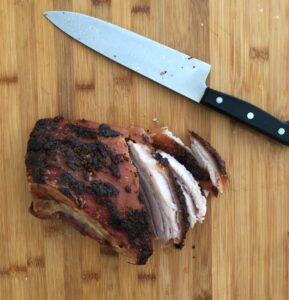 ¼ cup whole grain mustard
2 tablespoons prepared horseradish
2 tablespoons vegetable oil
Salt and pepper
Season pork belly with salt and pepper. Stir together mustard, horseradish, and oil until combined. 
Spread mixture over both sides of belly. Transfer to a baking dish (skin side up if it's there), cover loosely with plastic, and refrigerate at least 4 hours and up to 12. 
Heat oven to 450F. Roast belly 1 hour, until top is dark golden and beginning to crisp. Reduce oven to 250F and continue to cook until tender (it will be soft but not falling apart). 
Let stand 20 minutes before slicing.