Spice mix: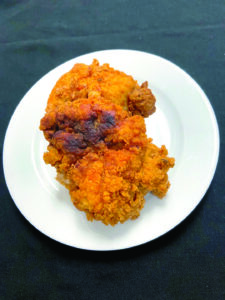 2 tablespoons ground cayenne pepper 
6 tablespoons granulated garlic 
1/4 cup paprika 
1/4 cup onion powder 
2 tablespoons brown sugar 
2 tablespoons kosher salt 
1 tablespoon black pepper 
Chicken:
1 (3 to 4 pound) whole chicken, cut into 10 serving pieces, each breast split in half 
5 cups buttermilk, divided  
1 tablespoon Tabasco
2 cups unbleached all-purpose flour 
1 large egg 1 teaspoon baking powder 
1/2 teaspoon baking soda 
Vegetable oil, for frying 
1. Make spice mix: In a small bowl, whisk all the ingredients to combine and set aside. 
2. To prepare marinade: Arrange the chicken in a large baking dish and set aside in the refrigerator. In a large mixing bowl, combine 4 cups buttermilk, hot sauce and 1/4 cup spice mix; pour over the chicken. Cover and marinate the chicken in the refrigerator for at least 3 hours or up to 8 hours.
3. Place a wire rack over a baking sheet. Remove chicken from marinade, set on rack and drain thoroughly. Pat away the excess with paper towels and bring chicken to room temperature, about 30 minutes. Heat oven to 350F.
4. In a large mixing bowl, whisk together the flour and 1/4 cup spice mix; set aside. In another large mixing bowl, whisk together buttermilk, egg, baking powder and baking soda.
5. Add about 3 inches of oil to a large, heavy Dutch oven over medium-high heat. Heat until the oil registers 350°F. If your pan is smaller, use two pans or fry the chicken in batches. 
6. Dredge the piece in the seasoned flour, making sure all the creases are well coated. Dip the chicken in the buttermilk coating, shaking off any excess, and then dredge back in the seasoned flour, shaking off any excess. 
7. Add coated chicken to the hot oil carefully, skin side down. Once all the chicken is in the pan, turn the heat to medium. After about 8 minutes, check the chicken. If a rich brown crust has developed, turn each piece. If the chicken still looks pale, increase the heat slightly and cook for a few more minutes before turning. Continue frying the chicken until well browned. Transfer the chicken to a wire cooling rack set over a rimmed baking sheet and place in the oven to finish cooking, about 10 minutes. 
8. Add 1 cup of hot oil to the remaining spice mix and whisk until thoroughly combined. Generously brush the seasoned glaze over the chicken and sprinkle lightly with salt. Serve warm or at room temperature.