By R. H. Lannen
West Dallas staple Oishii has finally found its way to this side of the bridge and has settled a new location in the SMU area behind Mockingbird station. Combining Japanese, Vietnamese and Chinese food, Oishii is known across Dallas for their unique and delicious sushi options from over-the-top creative rolls to high-quality sashimi and nigiri. Beyond sushi, the restaurant boasts an extensive menu and a plethora of cooked options ranging from pork to beef and everything in between. Though good, the cooked dishes pale in comparison to the delectable sushi choices.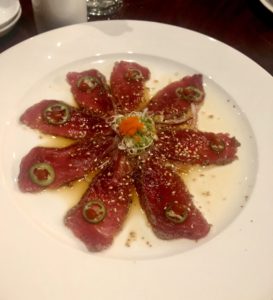 The new Oishii location feels massive on the inside, with a sea of packed tables and a wrap-around sushi bar surrounding the open-view kitchen. I found sitting at the bar most enjoyable on a packed evening, allowing one to garner almost a dinner and a show, watching the cooks feverishly prepare sushi rolls, with seemingly no breath between plates. Having just finished their soft opening, Oishii has been packed every night I have visited. Luckily, they have more than enough friendly and competent staff to cover their immense crowds of guests. The fish at Oishii is the real star of this "Pan-Asian" restaurant. Tataki is a Japanese dish usually consisting of beef or fish that is raw or lightly seared, and the Tuna tataki appetizer delivers a good representation. The tuna is crusted in black and white sesame seeds and sliced wafer-thin, then covered in a tangy ponzu sauce, which gives the perfect amount of acidity and bite to the dish. If tuna is not your favorite, the restaurant also offers a beef tataki that is equally delicious and of similar preparation. 
Past the appetizers, Oishii serves up a menu of highly inventive rolls, containing what seems like an endless number of ingredients. A personal favorite, the DOA roll is rich and particularly spicy, having been topped with tuna, Thai chilies, Sriracha and chili flakes, thus the ominous name. Oishii is not afraid of including some heat in many of their dishes, be it sushi or otherwise. If you are looking for something not sweat inducing, the chefs' particular roll consisting of tuna and avocado wrapped in a piece of crispy eel and topped with a healthy smattering of eel sauce is simple yet incredibly satisfying. Past the unusual rolls, the restaurant's extensive selection of classic sushi staples like the chopped scallop roll topped with a smelt egg or even the ever popular yet incredibly simple spicy tuna or crispy salmon skin rolls is all worth a taste.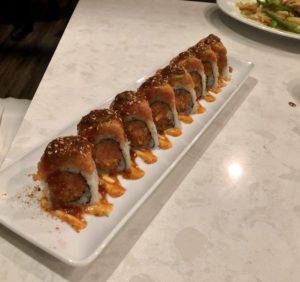 The restaurant also has found room for a full-service bar, which is the perfect place to grab a drink while waiting for a table to free up. Slightly unusual for an Asian restaurant, the manager of the new Oishii is a high-level sommelier. Instead of merely serving a small sampling of beer and saki, the restaurant offers up an impressive and diverse wine selection, from a myriad of different regions and blends. 
While East Dallas has no shortage of sushi restaurants, bad or good, something as creative and inventive as Oiishi is always welcome in the neighborhood.  
Oishii – SMU
5627 SMU Boulevard, Dallas, 75206
972-863-8863
11 a.m.-3 p.m. and 5-10 p.m. Sunday-Friday
11 a.m.-11 p.m. Saturday
5-10 p.m. Sunday