February 12, 1945 — March 27, 2023
Nicholas "Nick" Ramos passed away March 27, 2023 from natural causes. The son of Nicholas and Jane (Lozano) Ramos, he was born February 12, 1945 in Waco, Texas.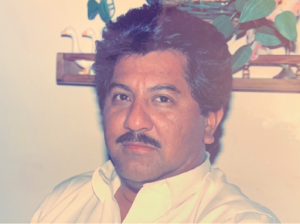 Nick attended and graduated from La Vega High School and attended Hill Junior College on a music scholarship. He was a member of the Junior and the Starlites band playing lead trumpet, a passion his son later enjoyed. He married Karen (Hunt) Ramos December 26, 1983. 
Nick worked in sales for a variety of custom van companies and outside sales. He was a long-time member of St. Vincent De Paul Catholic charity at St. Patrick Catholic Church and a parish member. Nick had a devotion to his children and family. He was proud of his children; daughter Lauren who had recently been promoted to Social Media Manager at Daltile Corporation and John, the owner of Urban Chicken Inc., whose company reached a 10-year milestone. Nick loved watching sports and listening to Tejano music. He was known for his humor, quick wit and desire to help others. Nick was a man of few regrets, but undoubtedly would have regretted not walking his daughter down the aisle in November.
Nick was preceded in death by his parents and siblings Daniel, Irene, Jane, Carmen and Albert (Tito). He is survived by his wife, Karen Ramos of Dallas; son, John Ramos and wife Casey Cutler of McKinney; daughters, Lauren Ramos and fiancé, Thomas Kinmartin of Dallas, Alice Long and husband Dennis of Euless; granddaughters, Joplin Ramos, an outstanding student, and Charley Ramos-Cutler of McKinney, who loved to give him kisses; grandsons, John Michael and Joshua Long of Euless; brother, Johnny (Carol) Ramos; sisters, Bettie (Paul) Raye of McKinney, Anna (Jerry) Garey of Frisco; and his grand-dog, Finnley.
A Memorial Mass is scheduled for Monday, April 17 at St. Patrick's Catholic Church, with Rosary at 9 a.m., Eulogy at 9:15 a.m., Mass of Christian Burial at 9:30 a.m. and Reception at 10:30 a.m. In lieu of flowers, donations may be made to St. Patrick's of Dallas St. Vincent De Paul Catholic Charity (9643 Ferndale Rd. Dallas, TX 75238).