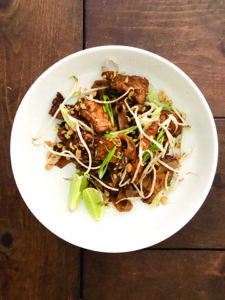 Sauce: 
2/3 cup Thai tamarind paste (available at Asian markets)
1/3 cup white vinegar
1/3 cup fish sauce
1/3 cup soy sauce
1/4 cup sriracha, or to taste
1/4 cup light brown sugar, or to taste
3 tablespoons garlic powder
8 ounces rice noodles (L or XL, depending on the brand)
3 tablespoons vegetable oil
1 pound very thinly sliced pork loin, chicken (breast or thigh) or sirloin
4 eggs, beaten
3 green onions, thinly sliced, divided
2 cups bean sprouts
1/2 cup roasted peanuts, chopped
Lime wedges, for serving
Stir together sauce ingredients in a saucepan and cook, stirring, until reduced by about a third. Remove from heat and set aside.
Cover rice noodles with hot water and let stand until soft, about 15 minutes, then drain. 
In a wok or large skillet, heat oil until shimmering. Add protein and stir fry until cooked on the outside. Push to the side and add eggs. Cook until set, about 30 seconds. 
Add half the green onions and stir fry 30 seconds, then add noodles and sauce. Cook, tossing noodles until tender, about 2 minutes. 
Add half the bean sprouts and continue to cook until warmed through. Sprinkle with peanuts and remaining bean sprouts and green onions. Serve with lime wedges on the side.