1 tablespoon Dijon mustard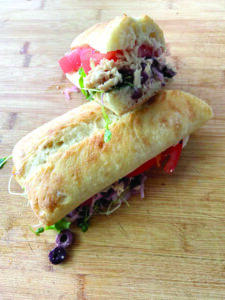 1 tablespoon red wine vinegar 
2 tablespoons extra virgin olive oil
1 shallot, thinly sliced
1 cup chopped black olives
1 cup microgreens
10 ounces tuna packed in olive oil, drained
Juice of 1 lemon
1/2 ciabatta baguette, cut in half lengthwise 
1 tomato, halved and sliced
2 hard boiled eggs, thinly sliced 
In a mixing bowl, stir together mustard, vinegar and oil. Add shallot and olives and let stand 5 minutes. Add microgreens and toss to mix. 
In a small bowl, stir together tuna and lemon juice. 
Top bottom half of bread with olive mixture, then tuna, then tomatoes and eggs. Top with top half of bread and wrap in foil. Weight down with a heavy skillet or pot lid for 30 minutes. 
Cut in half and serve.