1 cup granulated sugar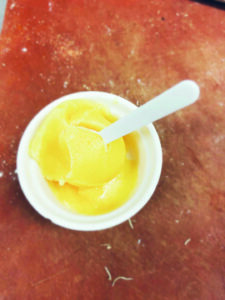 1/2 cup water
1/4 cup light corn syrup
2 pounds very ripe peaches, peeled, pitted, and sliced
1/2 cup Prosecco
3 tablespoons fresh lemon juice
1. In a small saucepan, combine sugar, water and corn syrup; stir and cook over medium heat just until the sugar is dissolved, about 2 minutes. Pour the syrup into a bowl, cover and refrigerate until completely chilled.
2. Add chilled syrup to a blender or food processor, together with peaches, Prosecco and lemon juice; puree until smooth.
3. Transfer the sorbet base to an ice cream maker and churn according to the manufacturers' instructions. Transfer to a freezer-safe container and freeze until firm.