SOUTH SIDE STUDIOS 
By Nancy Black
Lots of showbiz wannabes say they have the entertainment industry in their blood. Steven Demmler has actual proof of it. His mother was a Radio City Music Hall Rockette for decades, and his father was one of the longest working crew members of "Saturday Night Live!"
Demmler is now taking his unique genetics to a whole new level by opening South Side Studios (SSS) in Dallas. He and his business partner from Talon Entertainment Finance (TEF), Andrea Ratesepp, have purchased an old piece of property down the street from the South Side of Lamar and have big plans for its future. They envision a large-scale film and television production facility with more than 120,000 square feet of state-of-the-art studios and office space. The studios will have wardrobe and prop storage and can be used for podcast productions and major entertainment events throughout the year.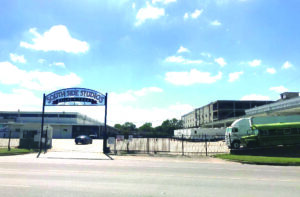 Even before the $20 million dollar face lift takes place this fall, the space recently hosted productions of The CW's "The Chosen" and five seasons of USA Network's "Queen of the South."
Demmler didn't immediately follow in his parent's footsteps. First, he graduated from NYU-Stern with a business degree and then headed to Hong Kong's University of Science and Technology. That led to him managing a "global macro trading book," which was comprised of a variety of commodities, including solar energy and the global dairy trade. He also spent time with MGM Resorts International as part of their global strategies and strategic operations team.
Now 37 and living with his wife and two children in Tampa, Fla., Demmler is focusing back on his passion for the film industry. As he works to finish his masters in fine arts for dramatic writing at NYU's Tisch School of the Arts, he's also supervising the construction and financing of the new Dallas studios. With the hopes of a late 2023 grand opening celebration, Demmler admits the challenges the new studio is facing.
"We have to wait eight-16 weeks just for the permits," he said while touring the property. "Then there are the trains!" he added while pointing to the active train tracks lining the entire backside of the property. Extensive sound testing was recently done throughout the property, and adjustments to architectural designs have been made to guarantee the new sound studios will actually be soundproof. 
As for luring film and TV productions to Dallas, TEF has a plan for that, too. Working closely with Dallas Film Commissioner Tony Armer, the team plans to leverage the $200 million in tax incentives for film productions recently approved by the Texas legislature. TEF is also available to fund projects that commit to shooting in Dallas and to using local union crews and actors. 
Demmler was recently the executive producer of the movie "Bookworm," starring Elijah Wood. He has led "the investment of millions into virtual production studios, traditional production companies, in addition to film debt and equity," according to the TEF website.
By combining his life-long experiences with television, film and global funding, Demmler hopes to bring the best of all his worlds into the new South Side Studios in Dallas. For information, visit southsidestudiosdallas.com.