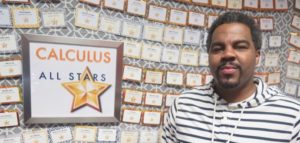 From DallasISD Staff Reports
The National Society of High School Scholars has named Thelvie Cullins, Jr., an Advanced Placement Calculus teacher at the School for the Talented and Gifted, as a Top Ten 2017 Claes Nobel Educator of the Year.
This is the second year in a row that Cullins has received this honor.
According to the National Society of High School Scholars, Cullins aids students in both grasping difficult mathematical concepts and developing into hard-working, passionate learners.
"Mr. Cullins' personal classroom results are astounding, but what is most impressive is the impact he's had on those around him and our school," TAG Principal Ben Mackey said.
The Educator of the Year Award recognizes 10 exemplary educators who have demonstrated an outstanding commitment to preparing students for success.
"I am honored to receive this recognition. It lets me know that everything I do sincerely for students, not only can I do it and have the students benefit, but it also seems to be recognized in some kind of way," Cullins said. "That gives students more confidence in me, and it gives me more confidence in what I'm doing and in my ultimate goal: helping other people."
Prof. Cullins wins honor for second time added by whiterocklakeweeklyadmin on
View all posts by whiterocklakeweeklyadmin →