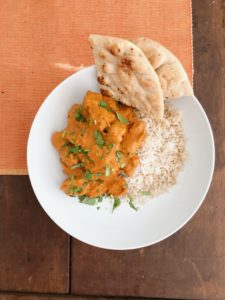 2 tablespoons turmeric
2 teaspoons fenugreek
1 teaspoon cumin
1 teaspoon garlic powder
1 teaspoon cardamom
1/2 teaspoon ground ginger
1/2 teaspoon cayenne, or to taste
1/4 cup whole milk yogurt
2 pounds skinless, boneless chicken breasts, cut into 1-inch pieces
6 tablespoons butter
1 yellow onion, chopped
3 garlic cloves, minced
1-inch piece ginger, peeled and minced
1 tablespoon tomato paste
1 28-ounce can crushed tomatoes
1/2 cup heavy cream, or as needed
Salt and pepper
Chopped cilantro, for garnish
Cooked rice, for serving
Heat broiler. Line sheet pan with parchment.
Whisk spices together in a large bowl. Remove 2 tablespoons of spices and set aside. Whisk yogurt into spices in bowl. Add chicken and toss to coat, then season with salt and pepper. Spread into a single layer on prepared sheet pan. Broil until chicken is cooked on the outside, about 5 minutes. 
Melt 3 tablespoons butter in large skillet over medium heat. Add onion, garlic and ginger, and cook, stirring, until onion is lightly browned, about 5 minutes. Stir in reserved spices and toast 30 seconds; stir in tomato paste and cook until it darkens. Stir in tomatoes. Simmer until slightly thickened, about 5 minutes. Remove from heat. Working in batches, transfer mixture to a blender and blend until smooth. Return to skillet and stir in chicken. Simmer over medium heat until chicken is cooked through, about 5 minutes. Remove from heat and stir in remaining butter and cream. Season to taste and garnish with cilantro. Serve with cooked rice.