By David Mullen
Legendary baseball broadcaster Harry Caray famously said, "You can't beat fun at the old ballpark." Caray, who died in 1998, never saw the Texas Rangers play during the last few seasons. It wasn't fun.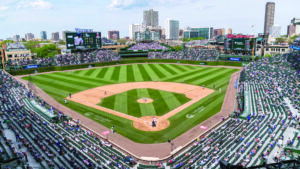 But this year, the first place Rangers are exciting to watch and baseball's new rules have improved the game dramatically. The reduction of pitcher engagements has reintroduced speed on the bases. Eliminating the infield shift means hard hit balls are going to outfielders for singles, not to infielders playing rover for outs. The ill-name "pitch clock," which should be called the "hit and pitch clock," has led to a reduction in nine-inning game times by nearly 30 minutes. 
Fans are flocking out to the "old ballpark," even if the Globe Life Field opened in 2020, is domed, has artificial turf, cost $1.1 billion to build and only accepts credit and debit cards unless you hail a vendor and pay cash to play the Texas 2 Split 50/50 Raffle in a state where sports gambling is illegal. 
Going out to a home game is fun again. Once unheard of, attending a Rangers game on the road is now a consideration. A major bucket list item for sports fans is to visit every MLB stadium. That line item on my bucket list has been checked.   
I have seen a Major League Baseball game at every single baseball park. A travel-intensive career in advertising provided me with an unfair advantage. I saw the Montreal Expos play at home in both Olympic Stadium and in San Juan, Puerto Rico. I saw the Colorado Rockies and San Diego Padres open the 1999 baseball season at the Estadio de Beisbol in Monterrey, Mexico. And I personally know the opossum that recently spooked the New York Mets broadcasters in the press box at the Oakland Coliseum. His family lived in my childhood neighborhood.     
I have seen 22 teams play in two different home parks. In four decades, the Atlanta Braves and the Rangers are on their third ballpark. I've seen games in all six.
My qualifications presented, I offer some thoughts on following the Rangers this summer and see some wonderful cities and great — and not so great — baseball parks.
On Monday, June 19, the Rangers start a three-game series with the White Sox. Guaranteed Rate Field is meh. But the weekend before, the Orioles will face the Cubs at venerable Wrigley Field, one of the greatest places on the planet. 
A weekend at Wrigley, a ballpark that Caray made "fun" no matter the Cubbies' record, is an experience you'll never forget if you monitor your consumption of Old Overholt and Old Style.
Stay downtown for the sights and don't miss Harry Caray's Steakhouse on W. Kinzie Street near the Chicago River. Peanuts are provided at the 60-foot, 6-inch bar. No pitchers are served. 
The Rangers play New York at Yankee Stadium beginning Friday, June 23. You can sandwich the Rangers games in between a train trip to Philadelphia to visit Citizen Bank Park and stay after the Rangers series and see the Mets play the Brewers at Citi Field, a considerable upgrade over Shea Stadium. Aside from watching baseball, there are other things to do in New York City. Like everything.    
San Diego's Petco Park, at the base of the Gaslamp District, is a superb facility and the Rangers play beginning Friday, July 28. San Diego's oldest bar, Tivoli Bar, is on nearby 6th Avenue. 
The Dodgers are also home that week. Los Angeles is two and one-half hours away by car. Like a Hollywood starlet, Dodger Stadium is a classic and hasn't aged a bit. There is no way it was born in 1962.  
From Tuesday, Aug. 8 through Sunday, Aug. 13, the Rangers are in the Bay Area. Oakland and San Francisco are eight miles apart. Go to the Coliseum for a day game. The weather is great during the day and good seats will be available. Texas finishes with the Giants at Oracle Park, an architectural marvel on San Francisco Bay. 
Public transportation to either stadium is easy. But consider renting a car for a day trip to the Wine Country (one hour away) or to Monterey/ Carmel (about two hours away). Pebble Beach is even more breathtaking in person. 
Texas also plays this summer at baseball landmarks like Boston's Fenway Park, Pittsburgh's PNC Park and Baltimore's Oriole Park at Camden Yards. Like Carey said, "You can't beat fun at the old ballpark," even if the ballpark belongs to another team.