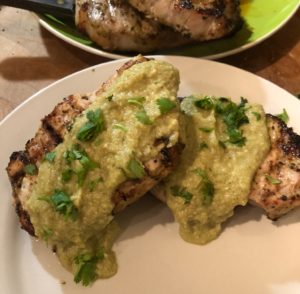 10 medium tomatillos, husked and rinsed
1 medium yellow onion, cut into 6 wedges
2 poblano peppers
6 cloves garlic, unpeeled
1/4 cup olive oil
1 cup toasted and salted shelled pumpkin seeds (pepitas)
8 center-cut boneless pork loin chops
1/4 cup chopped cilantro, plus more for garnish
2 tablespoons lime juice
Salt and pepper
Heat broiler and grill, if desired. Line a sheet pan with foil. In a large bowl, toss first four ingredients with oil. Spread into a single layer on prepared pan. Season with salt and broil, turning once, until softened and browned. Peel garlic and remove skin and seeds from poblanos.
In a blender, combine broiled ingredients with any juices that have collected and pepitas. Process just until a thick sauce has formed, about 1 minute. Add cilantro and lime juice and process until mostly smooth (the pepitas with add some texture). Season with salt and pepper.
Season pork chops and brush them with sauce. Either broil or grill them until medium, about five minutes per side. Let them rest five minutes, then spoon sauce over and sprinkle with chopped cilantro.
Recipe: Pork Chops with Pipiàn added by whiterocklakeweeklyadmin on
View all posts by whiterocklakeweeklyadmin →