1 delicata squash, halved, seeded, and sliced into 1/2-inch-thick slices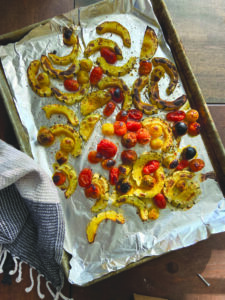 2 tablespoons vegetable oil
2 pints cherry tomatoes 
Salt and pepper
Heat oven to 425F. Line sheet pan with foil or parchment.
In a bowl combine squash and oil and toss to coat. Spread into a single layer on prepared baking sheet. Add tomatoes to bowl and toss to coat, then add them to the pan with the squash. Roast until squash is soft, about 25 minutes. 
Heat broiler and broil squash and tomatoes until browned, about 3 minutes. Serve hot.