1 eggplant, cut into 1/4-inch slices.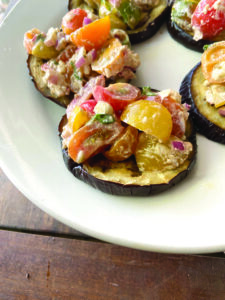 1/4 cup olive oil, divided
2 cups cherry tomatoes, halved
1/2 red onion, diced
4 ounces crumbled goat or feta cheese
2 tablespoons thinly sliced basil leaves
1 tablespoon balsamic vinegar
Salt and pepper
Heat oven to 425F. Line a baking sheet with parchment. Brush parchment generously with oil. Arrange eggplant on parchment in a single layer and drizzle with oil, then season with salt and pepper. Bake until bottoms are golden, about 20 minutes, then turn and bake until tops are golden, about 15 minutes more. Meanwhile, mix tomatoes, onion, cheese and basil with balsamic and remaining 2 tablespoons of oil. Season with salt and pepper. 
Arrange roasted eggplant on a serving platter, then top each slice with tomato mixture. Serve right away.