Story courtesy of KRLD Radio
A Texas Broadcasting legend is dead. Roger Emrich, a member of the Texas Radio Hall of Fame and a long-time sportscaster and reporter for 1080 KRLD and the Texas State Network, died Saturday night, April 27. He was 62.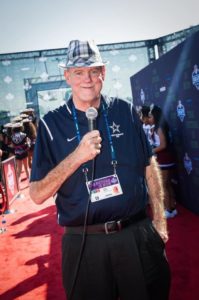 Emrich's son Ted, a network sportscaster in his own right, announced the death Sunday morning on a Facebook post. Roger did not recover after a heart attack last Wednesday and had been battling health problems for several years.
Emrich has been heard for decades on KRLD and Texas State Network, first as the Austin Bureau Chief, and then as a sportscaster. For the last few years, he hosted a high school football show every week with Chris Somer.
Roger was most passionate about three things: sports, music and life.
Emrich was also the Voice of AT&T Stadium, and known as "The Raj Majal" to friends, colleagues and fans alike. The Dallas Cowboys responded to the news, saying "His consistent smile, warm appreciation for others and that booming voice will be missed."
A funeral for Roger Emrich is on Saturday, May 4 at 10 a.m. at Family Cathedral of Praise in Mesquite. In lieu of flowers, donations can be made to Lake Highlands Presbyterian Church in Dallas or to Family Cathedral of Praise.