By Chic DiCiccio
Critics are an odd bunch. While rightfully praising Adam Sandler's flawless performance in "Uncut Gems," many feel it necessary to dump on every movie that he's ever appeared in. It's as if they hold some bizarre grudge against him, and having to admit that he's crafted a truly transcendent role is too much for them to bear.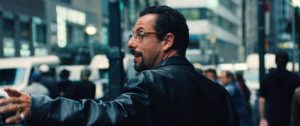 So yes, it's true. "Uncut Gems" will most certainly make The Sandman an Oscar nominated actor. His truly mind-blowing transformation into New York jewelry store owner Howard Ratner is not just his finest acting ever, it is a potential all timer comparable to the greatest antihero characters in movie history. 
Although, it's a bit of an understatement to call Howard an antihero. He's lower than that. His flashy designer clothes and upscale jewelry are a facade for his true identity … a lowlife sleaze who thrives on chaos. Writers/directors/brothers Josh and Benny Safdie allow for tiny moments where Howard could redeem himself, only to whisk them away time after time with unparalleled intensity. 
All of Howard's suffering is self-inflicted. His by-appointment-only jewelry store in New York's diamond district seems to be doing well, but he squanders his fortune on a gambling addiction and a fancy penthouse apartment that houses his mistress/clerk, Julia (newcomer Julia Fox in a stunning performance). His wife, Dinah (Idina Menzel), is sticking to her timetable for their upcoming divorce while her loan shark brother, Arno (Eric Begosian), attempts to collect on Howard's outlandish debts to him. 
Howard thinks he's found his ultimate get rich quick scheme after he obtains a rare black opal from an African diamond mine. His partner, Demany (Lakeith Stanfield), brings Boston Celtics star Kevin Garnett (typecast as himself) into the shop, and Garnett becomes enchanted with the opal. Howard agrees to let K.G. borrow the opal for good luck and, you guessed it, nothing goes right.
With "Uncut Gems" and their previous film, "Good Time," the Safdies prove that nobody does train wreck filmmaking like them. It's brutal to watch and experience, yet you can't take your eyes from it, and it sickeningly makes you want more. Darius Khondji's raw, but beautiful cinematography adds to the tension and lingers on Howard's face just long enough for you to pity him. If the story and photography aren't amped up enough for you, Daniel Lopatin's score gets so intense at times that it's almost unbearable. 
While every aspect of the film is created to perfection, it all pales in comparison to Sandler. His built-in boyish charm allows Howard to become somewhat likable despite how despicable he is. He disappears into the role and in one brief moment, Sandler conveys that Howard revels in the shambles that is his life. This is a manic powerhouse of a performance that, believe it or not, could only have been done by Adam Sandler. 
That being said, "Uncut Gems" is not for everyone. It's the movie equivalent of an adrenaline shot to the heart and could irritate a huge audience. You'll either be annoyed after 30 minutes or ready to run through a brick wall when it's over. But it's completely worth it. The finale is a gut-punch shock that will leave viewers absolutely floored. "Uncut Gems" is as addictive as its subject matter and well worth the fight.