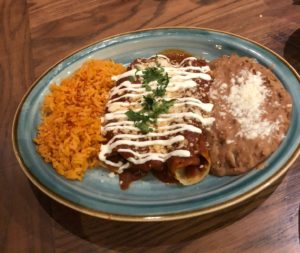 By Sara Newberry
The newest spot for Tex-Mex on Lower Greenville is Don Chingon, which opened last fall and is the latest concept to come from The Syn Group, who are also behind the Social House in Uptown. The goal was to a create a fun atmosphere and a fresh spin on Tex-Mex cuisine. The fun part, they have down. The success of their new take on Tex-Mex is promising, but inconsistent.
Fully half of the menu is made up of cocktails, which definitely contributes to the "fun" aspect. You'll find a number of variations on the margarita, as well as sangria and other cocktails named for various celebrities, from the Eva Longoria to Oscar de la Hoya's Punch and the Frida Colada (get it?) are all on offer.
The food menu is also largely made up of variations on familiar dishes, albeit with more straightforward names. You'll find tacos, enchiladas, nachos — standard Tex-Mex favorites. But you won't find the cheese-laden plates here that you will get elsewhere. These dishes were created with an attempt at a more sophisticated approach. The results run the gamut as far as how successful they are.
Take the nachos, for example. At Don Chingon you won't get a plate of chips with beans and melted cheese. Instead, you will get a pile of chips, some slathered with beans, drizzled with queso and topped with pico and crema. Unfortunately, this presentation means that while the top layer of chips is loaded up, the chips underneath are largely bare. Chunks of smoked brisket were fork-tender. (I also prefer actual melted cheese on my nachos instead of queso; call me old-school.)
Tacos are more successful. We were encouraged to order the carne asada, and our server did not steer us wrong. The chopped steak was flavorful, and the tangy cabbage slaw (like a Salvadoran curtido) added texture. The menu lists these tacos as being served on corn tortillas, but ours arrived on flour. They were excellent tortillas, though, so we weren't too disappointed.
I had to try the Mexican mac & cheese. It's listed as an appetizer, but it could absolutely be an entree. Adding chorizo is an option that I will choose next time; the cheese sauce was a little bland on its own.
Pork chop guisada was the most unusual version of any of the dishes we tried. Guisada is a long-cooked stew of chunks of meat, often pork or beef. This one features very thin pork chops that are theoretically braised for 18 hours. My issues with the dish are twofold: first off, those pork chops were tender, sure, but they were also less than half an inch thick so should have been falling apart by the time they got to me; they were not. The dish was tasty, but the combination of tomatoes, green olives, and capers was incredibly acidic, more like a Peruvian or Cuban dish than Tex-Mex.
The best dish I tried at Don Chingon — and what I will order when I return — are the short rib enchiladas. The short ribs were almost buttery, and the chipotle sauce that covered them was just spicy enough, with a tinge of pleasant sweetness that really balanced out the heat. (I wanted my pork chops to be bathed in this sauce.) A drizzle of crema and a sprinkle of queso fresco brought the dish home. It makes me optimistic about trying other dishes on the menu.
Don Chingon is fun. The patio will be amazing when it's a little warmer, and I look forward to exploring more of those cocktails. It's an excellent stop during an evening spent on Lower Greenville.
Don Chingon
2237 Greenville Avenue
469-250-7259
thedonchingon.com
Open 7 days 11 a.m. to 2 a.m.