3 pounds bone-in short ribs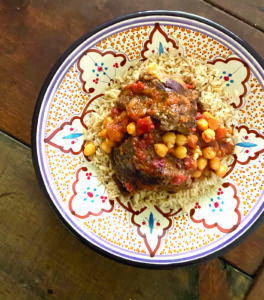 2 tablespoons oil
2 onions, cut into 1/2-inch wedges
3 cloves garlic, minced
2 tablespoons red wine vinegar
2 tablespoons harissa, or to taste
1 (13.5-ounce) can fire-roasted diced tomatoes
1/2 cup chicken stock
1 (13.5-ounce) can chickpeas, drained
Salt and pepper
Rice, for serving
Pat short ribs dry and season with salt and pepper. Let come to room temperature. If using a Dutch oven, heat oven to 300F.
Heat oil in a pressure cooker or large Dutch oven. Add ribs and brown on all sides, then remove to a plate. Add onions and saute until browned. Add garlic and cook for 30 seconds. Add vinegar and stir to loosen solids from the bottom, then stir in harissa. Add ribs back to pot and pour tomatoes over, then stir in chicken stock. 
Cook on high pressure for 35 minutes (natural release) or covered in the oven for 3 hours. Remove ribs and bring pot liquid to a boil, then boil until reduced by about half. Stir in chickpeas. Add ribs back to pot and serve with rice.