4 petite sirloin steaks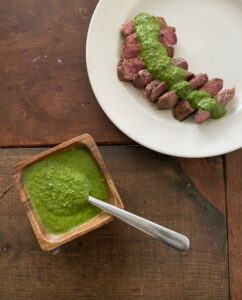 5 garlic cloves
2 cups arugula
1/4 cup red wine vinegar
1/4 cup olive oil, plus more for cooking steak
1 teaspoon capers
1/2 teaspoon oregano
1/2 teaspoon ground cumin
1/2 teaspoon kosher salt, plus more for seasoning steak
1/2 teaspoon black pepper, plus more for seasoning steak
Season steaks with salt and pepper. Heat a heavy skillet until smoking hot. Add 2 tablespoons oil and add steaks. Cook 4 minutes a side for medium rare. Transfer steaks to a plate and let rest 20 minutes.
Add garlic to a food processor and process until minced. Add remaining ingredients and process until smooth. 
Slice steaks and spoon chimichurri over to serve.