By David Mullen
The SMU football program just finished the most distinguished week in their 108-year history. Not just because they weathered 11 a.m. field temperatures nearing 100 degrees for a 38-14 victory over the previous 1-0 Louisiana Tech Bulldogs team on September 2.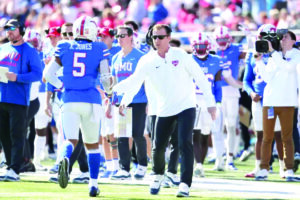 A day earlier, the Mustangs' sports future was defined for years to come. SMU accepted an invitation to join the Atlantic Coast Conference (ACC) as a full voting member in all sports, effective Monday, July 1, 2024.
"Joining the Atlantic Coast Conference is a historic milestone in our institution's history, and the start of a new chapter in SMU Athletics," SMU President R. Gerald Turner announced on September 1. 
"From early on in my tenure here on the Hilltop, we had a vision to reestablish SMU Athletics as a nationally recognized and relevant program, one to complement our outstanding academic reputation. It is truly an exciting time on the Hilltop."
Unabashed SEC apologist and college football curmudgeon Paul Finebaum disagrees. He thinks that the ACC, by adding SMU from the American Athletic Conference (AAC) and UC Berkeley (Cal) and Stanford from the Pac-12, is making a mistake.
"There is such a fissure right now in the ACC," Finebaum told ESPN. "I just want to congratulate the ACC for essentially voting out Clemson, North Carolina and Florida State because after what happened Friday with the admission of SMU, Cal and Stanford, they have essentially given those three a ticket out. That league, which was already teetering towards irrelevancy, has just taken on three schools that devalue an already discounted product even more, and that league is just heading towards the iceberg."
The irony of Finebaum's comments is two-fold. His iceberg comparison confirmed my belief that he barked out the Titanic headlines while peddling The Birmingham Post-Herald on a street corner for two cents. "Extra, Extra. Read all about it!"
Secondly, Finebaum is myopic in his thinking. He maintains that the sooner that NCAA football in general and the SEC specifically becomes an amateur NFL, the better. In his world, SEC football must rule above all else, bedamning rules governing college athletics in pursuit of national gridiron titles for Alabama, Georgia, Florida or Tennessee. 
SMU, Cal and Stanford join ACC members Boston College, Clemson, Duke, Florida State, Georgia Tech, Louisville, Miami, North Carolina, NC State, Notre Dame (independent in football), Pitt, Syracuse, Virginia, Virginia Tech and Wake Forest. There will be travel challenges, and Cal and Stanford are near the Pacific Coast, not Atlantic Coast, but it wouldn't be the only conference inaptly named. The Big 12 currently has 14 members, and the Big Ten has 14 schools (soon to be 18).    
Finebaum discounts the fact that Stanford and Cal are two of the most successful athletic departments in America. Stanford brings 134 NCAA national team championships to the ACC. Cal brings 42. North Carolina previously led all ACC programs with 47 titles, primarily in women's soccer. Finebaum's alma mater Tennessee has 23 national titles, led by women's basketball with eight.   
Clemson, North Carolina and Florida State opposed the ACC expansion. They didn't like sharing the wealth of TV contracts. SMU — residing in the nation's fifth largest media market — joins the conference revenue sharing asking for nothing. Cal and Stanford — despite being in the 10th largest U.S. media market — took a reduced cut of TV revenue to join. But the prestige gained is priceless.
Obviously, upgrading academic standards and reputations within the conference was not a consideration for naysaying schools. In the history of Nobel Prize winning universities, Cal has 26 faculty and 35 alumni winners, second only to Harvard. Stanford is fourth. No previous ACC school is even in the Top 25. Duke is 27th.
Not all conference priorities are about blowout nonconference wins, high TV ratings and building additional revenue streams like the ESPN-owned SEC Network. SMU, with Cal and Stanford, gained more than a competitive athletic schedule by joining the ACC. They are gaining status.
"In addition to its influence on our Athletics programs, being formally associated with the outstanding academic institutions in the ACC will also be beneficial to the academic community of SMU," Turner said.
SMU Board Chair David B. Miller said: "This is such an important day for SMU. Becoming a member of the ACC will positively impact all aspects of the collegiate experience on the Hilltop and will raise SMU's profile on a national level." Finebaum and other SEC autocrats have long forgotten the term "student-athlete." There is more to college sports than TV ratings and 73-7 wins over Mercer.
The Mustangs still must focus on their final AAC season. Based on SMU's opening game victory, the offense will be more conservative than in previous years. QB Preston Stone (pictured) is not as pass happy as former SMU QB Tanner Mordecai and doesn't have the same compliment of wide receivers.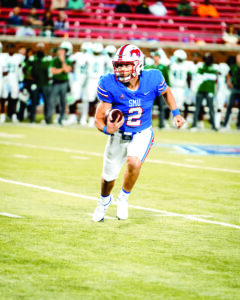 "I thought he really played, maybe boring football?" SMU head coach Rhett Lashlee said after the La. Tech game. Stone was 28 for 37 for 248 yards and three TDs. "Maybe boring with three touchdowns is good."
Expect SMU to run more this season. Rushing for more than 200 yards, as the Mustangs did on September 1, gives their defense more time to recover. The Mustangs defensive line is set, but the linebacker and defensive backfield corps is a work in progress. SMU held La. Tech to just 155 total yards. 
The week before, the Bulldogs ran up 447 total yards in a 22-17 victory over FIU. 
SMU may not be the offensive steamroller during the Sonny Dykes era, but the Mustangs are well positioned for success during their final season in the AAC. The Mustangs will be tested on Saturday, Sept. 9 in a nonconference game against No. 20 Oklahoma in Norman. It will be good practice for the stiffer competition the ACC will bring in 2024.
"We are thrilled to welcome three world-class institutions to the ACC, and we look forward to having them compete as part of our amazing league," ACC Commissioner Jim Phillips said on September 1. "Cal, SMU and Stanford will be terrific members of the ACC and we are proud to welcome their student-athletes, coaches, staff and entire campus community, alumni and fans."
SMU will soon be part of the Power 5 ACC. Their improved profile increases athletic and academic recruiting. Being in Dallas helps the ACC and the ACC is good for SMU, even if it takes traveling more than 1,200 miles to feel the Atlantic Coast breezes.