1 cup unsalted butter, melted, plus more for skillet and baking pan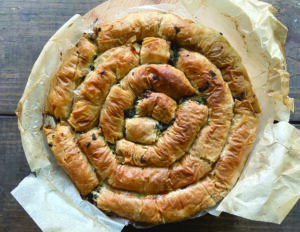 1 yellow onion, finely chopped
2 (16-ounce) packages frozen chopped spinach
1/4 cup chopped fresh dill
2 cloves garlic, minced
1/4 teaspoon nutmeg
1 tablespoon Greek oregano 
8 ounces feta, crumbled
2 eggs, beaten
Kosher salt
1 package phyllo dough, thawed
1. Heat oven to 375F. Lightly butter a 10-inch round baking pan, line with parchment and butter the parchment. 
2. In a large skillet, melt 2 tablespoons butter over medium heat. Sauté onion until softened and lightly golden, about 3 minutes. Add garlic and cook 30 seconds more. Stir in spinach, nutmeg and oregano. Reduce heat to low, and cook, stirring occasionally, until the liquid has mostly evaporated, about 8 minutes. Let cool slightly.
3. Spread spinach mixture on paper towels and squeeze remaining moisture. Once the spinach/onion has cooled, squeeze out as much water as you can. In a large bowl, combine mixture with dill, feta and eggs. Stir gently to combine and season lightly with salt.
4. Lay one sheet of dough (keep the longer side in front of you) and brush with melted butter. Repeat three times, for a stack of four sheets. Spread filling about 1 inch wide along the long edge, then roll up dough to form a cylinder. Place in prepared pan around outside edge. Repeat with additional dough and remaining filling, working toward the center. 
5. Brush top with melted butter and bake until golden brown, about 45 minutes. Cut into wedges to serve.