By Carrie Dyer
United to Learn (U2L), a Dallas-based nonprofit that partners with Dallas ISD elementary schools to accelerate student achievement and grow purposeful leaders, is gearing up for the new school year by fulfilling thousands of teachers' supply requests. Learning Launch, U2L's annual supply and resource drive, equips Dallas elementary schools and classrooms for the first day of school and beyond.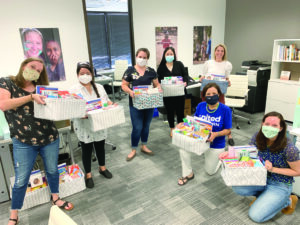 U2L's Learning Launch is Dallas' only back-to-school supply drive that provides schools with teacher-requested learning resources and tools. In addition to providing educator-requested supplies, this year United to Learn is helping campuses with small campus projects that enhance the learning environment and aim to excite students about the start of school. 
The program alleviates the financial and time burden of teachers and administrators who typically spend an average of $600 of their own money annually to backfill district and school budgets.
"United to Learn's Learning Launch makes a meaningful impact on our campus community," said Kermange Johnson, principal at Gooch Elementary. 
"By truly understanding and delivering specific needs, Learning Launch fully prepares our school for the new year, invigorating our educators as well as our campus. This year, we are especially excited to start a classroom transformation project where we will turn classrooms into themed environments such as outer space, under the sea, doctor's offices, and even a jungle safari!"  
This year's requests include resources for social and emotional learning: mindfulness and self-soothing practices, stress balls, materials to create calming rooms and recess "Grab N Go" bags; tools for technology growth: STEAM labs and makerspaces, sensory-rich materials, subscriptions for learning programs; and supplies that will enhance school spirit and community engagement: spirit shirts, materials for grandparents' day and more.
To help students, teachers, and administrators get excited about the new school year, U2L's Learning Launch is also fulfilling requests for back-to-school projects like care closets to meet uniform and hygiene needs and school spirit signs to enhance pride and belonging. 
"United to Learn's Learning Launch allows partners like Atmos Energy to strategically partner with our area schools," said Kelly Biegler, vice president of public affairs for Atmos Energy, the presenting sponsor of Learning Launch. 
"Investing in our schools and our educators is an investment in the future of Dallas."
Fundraising efforts for United to Learn's sixth annual Learning Launch are being led by Chairs Lindsay Billingsley, Margaret Hirsch, Jenny Staubach, Sarah Weinberg and Dawn Zierk. Donations are being accepted now, and gifts of more than $500 will include tickets to the third annual Learning Launch Back to School Fiesta, which is on Sept. 21 to also help kick off North Texas Giving Day on Sept. 22. Donations of any amount can be made at unitedtolearn.org/learninglaunch to help fulfill teachers' wish lists. 
Last year's Learning Launch Back-to-School resource drive raised $240,000 and provided:
• 4,435 instructional tools
• Two leveled libraries with 400 texts
• 175 multicultural books
• 86 sets of math manipulatives
• 692 books for novel studies.
United to Learn is ready to start this Dallas ISD school year off right, mobilizing the community around resources for 49 "U2L Schools," teachers and students.