By Lin Trinkle
The White Rock Lake Artist's Studio Tour returns the weekend of Oct. 9-10 with four new studios joining the tour this year. There is a palpable sense of excitement from local artists and art enthusiasts eager for the return of this community event.  The tradition began in 1992 with a group of seven artists — including the beloved art professor and renowned ceramicist Marty Ray. Once again, Marty and Richard Ray will open their studios again this year as their long-term collaboration in art and life continues to contribute to our community.
In the southwest triangle of Garland and Peavy Roads reside two neighboring studios on Selva Drive that are joining the studio tour this year. Treehouse Studio is the spacious second story workplace and mosaics teaching studio of Rebecca and Dan Collins. Rebecca founded the digital art portrait business Artpaws.com, which produced hundreds of vibrant pet portraits a year. She attributes "taking a mosaics class at the Creative Arts Center of Dallas (CAC) on a whim in 2007" as a game changer in her career and her life. She produced pet portraits as her day job and explored unique ways of creating mosaics in her play time. 
Walking through their home gallery, it is apparent that the Collinses are nature lovers with innovative ideas and extraordinary skills. The juxtaposition of Rebecca's mosaic assemblage pieces with Dan's exquisitely detailed drawings of insects is a delight to behold. Rebecca offers mosaics classes in the Treehouse Studio three days a week and also teaches at the CAC. 
In spite of a diagnosis of Stage 4 breast cancer in 2015 and ongoing treatments, Rebecca continues to make and teach art. "The students are my inspiration and keep me motivated to get out of bed and make art."  The signup page for classes can be accessed at treehousestudio.eventbrite.com
Jim Hastings Ranch House Art Studio on Selva Drive is also a teaching studio as well as his art studio. Jim is new to the tour this year, but has been an artist his entire life. When he was 10 years old, his mother recognized his ability and enrolled Jim in art classes at Richland College. Jim eventually earned a masters in art education and taught art in the Dallas public schools and the private sector for more than 20 years. An accomplished artist, his murals can be seen in Deep Ellum and at the White Rock YMCA. As a parent of five children, Jim enjoys the process of assisting children in understanding the ways that art can help them express their unique way of seeing the world.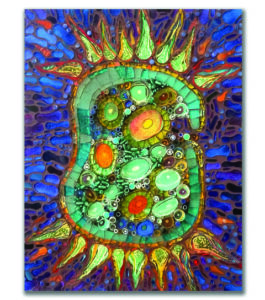 In 2015, Jim and his family suffered the tragic loss of their oldest daughter who was kidnapped on her way to church and murdered. One of the ways that Jim deals with that pain is by creating daily drawings of his loved ones. The hundreds of drawings Jim has made throughout the years attest to the transformative power of love to create art and assist in healing.  
In 2017, Jim opened Ranch House Art Studio to art instruction for children and teenagers. Jim describes his goal as "giving students a solid, classically based art instruction, that will advance their technical ability and have fun in the process." Jim's extensive art portfolio can be seen on Instagram, and information on art classes is on Facebook at Ranch House Art Studio.
Judith LaPlante joins the White Rock Lake Artists Studio Tour this year and will be offering demonstrations of the Raku method of pottery on both days. It will take place in a covered open-air patio adjacent to her studio. Raku is an ancient ceramics technique originating in Japan that engages the four elements: earth, fire, water and air. Starting Saturday at 10 a.m., Judith will begin with the sagar prep, which involves wrapping the vessels and placing them in the raku kiln. Three hours later (1 p.m.), the sagar vessels will be removed and placed in reduction bins for cooling, producing lots of fire and smoke! At 3:30 p.m., Judith will demonstrate traditional decorative techniques with horsehair and feathers. At 4:30 p.m., the wrapping is removed from the vessels to reveal the final product.  
Judith remarks the final reveal is always unpredictable as the elements involved in the Raku process can produce very different results each time. Sunday's Raku demos will follow a similar schedule starting at 11:30 a.m. In addition to Raku pottery, Judith creates delightful small ceramic sculptures of Scottish Highland cattle, tabletop menorah villages and yard art, including lasercut metal shadow animals. Visitors will recognize the LaPlante house on San Fernando Way by the beautiful metal panels and squirrel shadows in their xeriscaped yard. Follow the driveway to the back yard and studio area for these exciting demonstrations of Raku techniques.
 Brochures for the White Rock Lake Artist's Studio Tour are available at The Bath House Cultural Center, the Creative Art Center and other local businesses. A map with locations and descriptions of the 34 artists on this year's tour are online at whiterockartists.com.