By Rosanne Lewis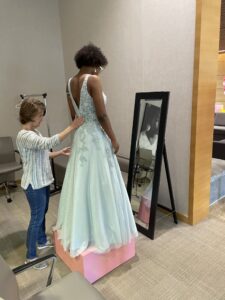 More than 60 young people living in foster care were provided with formal attire at Dallas CASA's annual Prom Event, supported by Comerica Bank. Accompanied by Child Protective Services caseworkers, Dallas CASA volunteers or caregivers, the teens shopped for dresses, tuxedos, accessories, shoes and more in Dallas CASA's training room, which was transformed into a temporary prom boutique for two Saturdays in March.
Volunteers from Dallas CASA Children's Council were on hand to help teens make clothing selections. Some teens were hesitant at first, but as they found outfits they loved, their excitement showed through. For many teens in foster care, prom can get overlooked amidst more pressing concerns like safety and housing, so Dallas CASA's event offers them a chance at normalcy. Teens at the event had been removed from their homes due to abuse or neglect and are now living in the protective care of the state. Representatives from Transition Action Resource Center (TRAC) and Preparation for Adult Living (PAL) programs were also in attendance to start conversations about their programs for teens aging out of foster care.
Learn more about volunteering and the many ways to help children in foster care at DallasCASA.org.