By David Mullen
On March 31 through April 2, Dallas and American Airlines Center hosted the most significant three days in NCAA women's basketball tournament history. The four most fascinating teams in Division I women's basketball came to town to put on a show.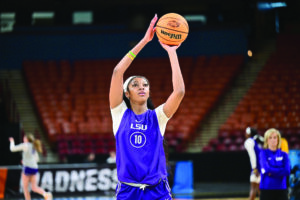 The stage was set, and the stakes were high. The games meant more than just competition. It was a defining moment for a sport that was considered community theater versus NCAA men's basketball's Broadway. 
The Women's Final Four semifinals showcased the upstart Virginia Tech Hokies, competing for the NCAA woman's basketball title for the first time in 30 years, versus an LSU team made up of portal transfer athletes and put together by their flamboyant head coach Kim Mulkey. In the semifinal game, won by LSU 79-72, Mulkey's sideline sartorial splendor screamed "pink flamingo" more than Pinko.
In the second semifinal game, the undefeated South Carolina Gamecocks, the No. 1 team in the country all season, faced Iowa and guard Caitlin Clark, the AP women's Player of the Year, and one of the most exciting basketball players — in men's or women's college basketball — to come along in decades.
Clark averaged 31.8 points per game during the 2023 tournament, scored 41 against South Carolina and finished with an NCAA tournament record 191 total points, besting Texas Tech's Sheryl Swoopes 177 total and — if one must go there — Michigan's Glen Rice, who scored 184 points in their 1989 NCAA championship run.   
Promoters of NCAA women's basketball always felt they were the understudy to the men's stars. The men have a much bigger following, significantly higher TV ratings and attendance figures. NCAA March Madness is flush with corporate sponsors. Games are played in football stadiums, not basketball arenas. But with the 21-year-old Clark leading the way, NCAA women's basketball became "must-see-TV."
Iowa's win over South Carolina had 5.5 million viewers on ESPN. That eclipsed last year's NCAA Women's Finals game between South Carolina and UConn by more than one million viewers. 
The 2023 Finals between Iowa and LSU drew 9.9 million viewers on ABC. Viewership reached 12.6 million during the game. That is more viewers than any NHL Stanley Cup game since 1973, more viewers than the 2023 Sugar, Orange and Cotton Bowls, the 2021 NBA Finals, the 2020 World Series and any NFL Thursday Night game this season. NCAA women's basketball has become relevant, and the pigtailed Clark with her superior ball handling skills and deadeye shooting deserves much of the credit.
LSU, behind Angel Reese, who won the NCAA Most Outstanding Player in the tournament, and an unlikely 21 points from graduate transfer Jasmine Carson, beat Iowa and Clark 102-85. But after the confetti fell, the reviews went from glowing to growling. Unfortunately, the 2023 NCAA Championship Game will be remembered as "the  taunt that trumped the title."
As the game ended, Reese pursued Clark, giving her the "you don't see me" wave made famous by wrestler John Cena and has become a cultural oddity. She then pointed to her finger, mocking Clark that Reese will receive a ring and Clark won't. And the world was watching.
After the game, Reese said she was being "unapologetically herself," and commented, "So this was for the girls that look like me, that's going to speak up on what they believe in. It's unapologetically you. That's what I did it for tonight. It was bigger than me tonight."
Social media lit up with negative comments ranging from immaturity to racism. Reese was called "classless" and "ghetto." Clark is White and Reese is Black. Many pointed out that Clark is a noted "trash talker" on the court. In today's society, being uncouth is the accepted practice, not the exception.
In the 1980's, people tried to make the rivalry between Larry Bird and Earvin "Magic" Johnson into a race issue. They had faced off in the 1979 NCAA Men's Basketball Championship Finals that put the Final Four tournament on the map. Bird and Johnson continued their rivalry into the NBA. 
Bird is White, played for the Boston Celtics and is from French Lick, Ind. Johnson is Black, played for the Los Angeles Lakers and is from Lansing, Mich. 
But what Bird and Johnson did transcended any contrived race war. They brought more interest into a game that supersedes individualism. People began to realize that basketball is a great game — America's game — played by superior athletes. While the tallest players have an advantage, no one made fun of Spud Webb or Muggsy Bogues because of their height. They marveled at their skill. 
What Clark has done for women's college basketball is bring skill, personality and most importantly, relevance to a game that has been played for more than a century. The first recorded women's intercollegiate basketball game was played in San Francisco between Stanford University and the University of California — Berkeley in 1896. It was not televised.
While women's basketball has been played for more than 127 years, it has only been recognized as a marketable product by the NCAA recently. The first formal NCAA Division I women's basketball tournament was held in 1982 in relative obscurity. Clark is the current driving force behind women's basketball reaching a previously disinterested audience. 
After the LSU victory in the semifinals against Virginia Tech, Reese said, "We've grown women's basketball just being who we are, and I embrace that." Sorry, young lady. More people are gravitating to the women's basketball today because of Clark.
Interest in golf exploded because of Tiger Woods. Because of Bird and Johnson, and later Michael Jordon and LeBron James, NBA basketball became a multi-billion dollar global sport. Baseball stays relevant because of superstars like Mike Trout, Aaron Judge and Shohei Ohtani. All are transcendent performers. And, despite in-game talking and sparring with their opponents, all respect their game, win with grace and aplomb and embody team play.
After LSU's championship victory, Reese's teammate Alexis Morris, said: "I think the most exciting part about it is being a part of history. We're literally watching the game grow and change right in front of our faces, and we're playing a huge part in it. It's an honor, and I'm just super excited to be a part of it." 
Exactly. It is not about some trumped up race feud between Clark and Reese. It's not "corn" versus "cornrows." It's about the emergence of a sport that had been previously ignored.
Reese is a fine woman's college basketball player. LSU is a great team. Reese's post-game antics are indefensible, if for no other reason than taking the spotlight off a group of women that won a championship playing a team game.
It is not about race. It's not about respect. Reese's gesture was a sign of bad sportsmanship — or in this case — bad "sportswomanship." But she is a 20-year-old sophomore, and her antics will be chalked up to immaturity and eventually forgotten. Here's hoping that Reese will realize that her gesture closed the curtain on what should have been an epic moment for women's athletics. She taunted a player she should have thanked.