By Chic DiCiccio
There are slow burns and then there is HBO's "The Outsider," a 10-part miniseries that manages to be simultaneously compelling and frustrating. The first three one-hour long episodes have all aired and we are nowhere near learning who viciously murdered a young boy named Frank Peterson. This murder mystery piles on elements of horror and the supernatural, but also piles on the unexplainable.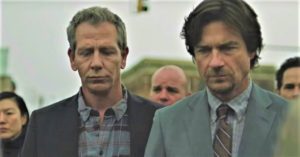 It's an annoyingly good watch, which is mostly due to the outstanding cast and direction. Star Ben Mendelsohn is Ralph Anderson, a detective in the small (and fictional) town of Cherokee City, Ga., whose investigation of Peterson's murder is clouded by the fact that his own son was tragically killed. Ralph's thoughts are so murky that Ralph chooses to have the main suspect, Terry Maitland (Jason Bateman), publicly arrested in front of the crowd of a little league baseball game … and Terry is the head coach. Public humiliation aside, Terry vehemently denies that he had anything to do with Peterson's murder. He's backed up by his wife, Glory (Julianne Nicholson), and everything goes off the rails in the first two episodes in ways that are truly unexplainable. 
"The Outsider" succeeds as a moody drama with a spotlight on trauma after a tragedy. Events snowball in very surprising ways and it affects everyone involved, some more horribly than others. 
If "The Outsider" does fail, it's when a mysterious hooded figure lurks around town, clothes are mysteriously found miles out of town, or when any of the unexplainable phenomena that accompany any Stephen King novel adaptation occurs. The answers are slow to come, if at all, which only leads one to believe … well … there won't be an answer and if there is one, it will simply be something supernatural that cannot be explained. 
Mendelsohn is easily the main reason to watch "The Outsider," as he perfects being a mopey sad sack cop. He hides his pain with sarcasm (as one does) but recognizes his flaws and does what he can to correct mistakes. It's a strangely noble performance that seems destined for a tragic ending. 
The rest of the cast is excellent. The always great Bill Camp excels as Maitland's attorney while Mare Winningham really surprises as Ralph's wife. Cynthia Erivo shows up as Holly Gibney, a King favorite, in the third episode and does eccentric genius just about as well as anyone. Not only does Bateman play against type as Maitland, he directed the first two episodes and they are exceptionally creative and far scarier than they deserve to be. The creepy factor is ramped to 11 and aided by the highly nerve-wracking music by Daniel Bensi and Saunder Jurriaans. 
As a 10-part miniseries, "The Outsider" is definitely worth watching, especially as theaters hit the February dumping ground. It's just as moody and bizarre as "True Detective," but missing that element of intrigue. This is definitely a case of the journey being much more interesting than the destination.