By Chic DiCiccio
People deal with their demons in different ways, and nearly all of them do it privately, behind closed doors. Celebrities don't often get to do that and Ben Affleck's unfortunate public struggles with addiction have been tabloid fodder for years. This is what makes "The Way Back" such a surreal, almost voyeuristic experience. It's difficult to separate the role from the actor, but Affleck quickly tosses that notion to the side and provides depth in ways many thought he could never achieve.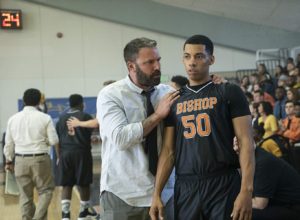 Affleck portrays Jack, a guy that spends his days working as a construction worker on high rises while sipping away at cheap vodka in an aluminum tumbler. After work, he cracks open a beer before stopping in at his local dive bar to then drink until he's blackout drunk. From there, he's embarrassingly walked home by a man nearly twice his age. In case you needed further insight into Jack's problem, his morning after shower is accompanied by another beer. 
Jack's alcoholic fog begins to dissipate after he accepts an offer to be the head basketball coach at his alma mater, where he was an All-State performer and highly recruited college prospect. In sports movie world, this type of plot device can quickly become corny, but director Gavin O'Connor and screenwriter Brad Inglesby avoid clichés and slowly build to a high point that feels earned by all the characters. 
During that journey, there are clues into what drives Jack's functional alcoholism. He flies off the handle after his sister, Beth (Michaela Watkins), mentions his a) drinking and b) estranged wife. After a meeting with his wife, Angela (Janina Gavankar), he gets some info about her that sends him right to his favorite bar … where he then promptly leaves without entering. 
From there, he dives headfirst into coaching a fully dysfunctional team, replacing one addiction with another. With the help of his assistant coach Dan (Al Madrigal), he instills toughness and discipline and takes his team to within an arm's length of the state playoffs. 
If there is a fault in "The Way Back," it's that this all happens … because it must happen? There's no life-changing moment or driving force for the team to gel, other than they may identify with their new head coach, who is also thought to be nothing more than a deadbeat loser. 
Affleck's deeply personal commitment to this role is evident, and he's laid himself out on a slab for the world to view. All the mannerisms, from glances around the room as he secretly pours vodka into a tumbler to the way he opens a can of beer, seem so natural that it's almost uncomfortable to watch. There's no glamorous "life of the party" moments here, and Affleck's low key, restrained performance is as brave as acting can actually get. 
"The Way Back" has several moments that require a hanky, whether they be uplifting or brutally sad. It all comes together in beautiful fashion during a one-shot take as Affleck's Jack bares his soul in ways that can only be described as art imitating life. Just like the rest of "The Way Back," it's honest, poignant and deeply cathartic.