2 tablespoons vegetable oil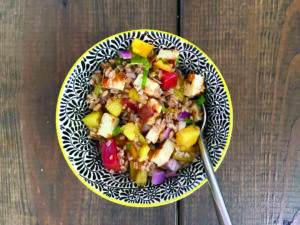 8 ounces halloumi, sliced into ½-inch slices
1/4 cup red wine vinegar
1/2 cup olive oil
3 large heirloom tomatoes, cored and diced
1/2 red onion, diced
1/4 cup chopped mint leaves
8 ounces farro, cooked according to package directions, drained and cooled to room temperature
Salt and pepper
Heat oil in a skillet over medium-high heat. 
Add cheese slices and brown on both sides, about 3 minutes total. Transfer to a cutting board and let cool slightly. 
In a large bowl, whisk together vinegar and oil. Add tomatoes, onion, and mint. Cut cooled halloumi into 1/2-inch squares and add to bowl, then add farro. 
Toss to mix. Season with salt and pepper and serve at room temperature.